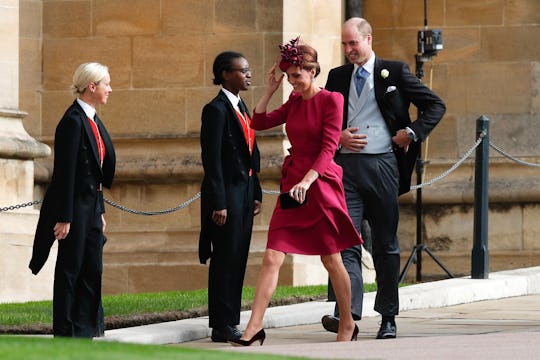 WPA Pool/Getty Images Entertainment/Getty Images
Kate Middleton's Look At The Royal Wedding Was Obviously Perfect
The Duchess of Cambridge is probably the most reliable style icon in the royal family. No disrespect to any of the other family members or anything, but there's something so trustworthy about her fashion choices. So when the world got up before dawn to watch Princess Eugenie and Jack Brooksbank get married at St. George's Chapel at Windsor Castle, you know everyone was dying to see what Kate Middleton's royal wedding look had going on. And obviously it was exactly what we wanted to see.
Early reports in several media outlets, including The Daily Express, indicated that Middleton would be dressing down for the occasion, which seemed silly. After all, what's a British royal wedding without a glorious fascinator? Perhaps people thought she might be wearing her third best fascinator or something? Apparently the reasoning behind rumors that she was expected to dress down were based on the idea that she didn't want to upstage the bride. As much as I loathe this sort of female comparison nonsense, I have noticed a trend with the mother of three. When her brother-in-law Prince Harry married Meghan Markle in May, Middleton stuck to the background.
In fairness, she had just given birth to her youngest child, Prince Louis, less than a month earlier. And even then she was still rocking a killer fascinator.
And back when her sister Pippa Middleton got married in May 2017, she was actually slightly dressed down in muted colors. Wearing a pale pink dress with matching fascinator and taking over role of official kid-wrangler. But let's get real here, she still looked dynamite.
When it came to Middleton's look for Princess Eugenie's wedding, fans were thinking she might actually go high fashion with a little Alexander McQueen number. And when Middleton arrived at her cousin-in-law's wedding she wore a lovely raspberry pink mid-calf dress and simple coordinating fascinator. The perfect choice, of course. And yes, the dress was designed by Alexander McQueen, according to E! News, the same designer who created her wedding gown.
The Duchess of Cambridge seemed delightfully unfettered at the royal wedding of Princess Eugenie and Jack Brooksbank. When she was a guest at previous weddings like Pippa Middleton's and Meghan Markle's, she seemed to be either super busy or at the very least, busy trying not to be noticed. Busy taking care of her two older children Prince George and Princess Charlotte as they fulfilled their duties as page boy and bridesmaid, for instance. Yet this time around, even though the two were once again on duty, she was relaxing beside her husband Prince William. They even held hands in church...talk about getting steamy, right?
I suppose at this stage of the game, her kids are such professionals in their wedding roles that she doesn't need to do her usual kid-wrangling. And I assume that her youngest child, 6-month-old Prince Louis, is probably with the nanny. Which means Middleton can enjoy a rare date day with her husband, looking fabulous in Alexander McQueen. With no wedding duties in sight.
Good for her.