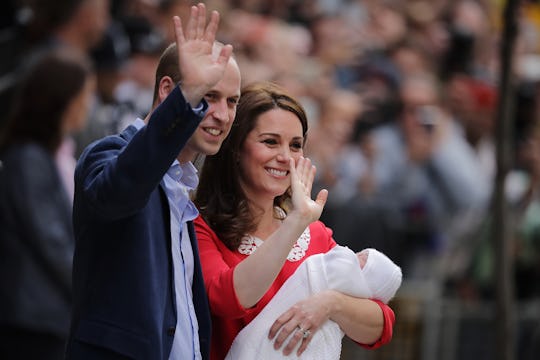 Dan Kitwood/Getty Images Entertainment/Getty Images
Kate Middleton's Midwives Are The Unsung Heroes In Her Births
Kate Middleton, Duchess of Cambridge, gave birth today to her third child, and a still-to-be-named prince. It was a quick birth: Middleton checked into the Lindo Wing at St. Mary's just after 8 a.m. and the baby was born at 11.01 a.m. per the Kensington Royal Twitter feed. Kate and the baby left the hospital about 6 p.m. local time with the whole world watching and wondering how on earth she had emerged so quickly and so seemingly in good shape. One good clue? As with her previous two births, Kate Middleton's midwives were chief part of the delivery team.
The two doctors in attendance were consultant obstetrician Dr. Guy Thorpe-Beeston and consultant gynaecologist Dr. Alan Farthing, according to The Telegraph. Previously, both had presided over the deliveries of Prince George and Princess Charlotte. But reports after Princess Charlotte's birth established that the Duchess had delivered under the guidance of her midwives, per E! Online. Midwives Jacqui Dunkley-Bent and Arona Ahmed attended Kate during her first two deliveries, and were expected to be called on once again for her third delivery.
When Charlotte was born, "the Duchess had a meticulous birth plan and had opted to be seen first by the midwives," reported News Americas Now at the time. So while the male doctors waited in a nearby room in case of any complications, Ahmed and her boss, Jacqui Dunkley-Bent, professor of midwifery at Imperial College Healthcare NHS Trust, were actually running the delivery.
Kate Middleton is a strong supporter of NHS nurses and was happily reunited with midwife Jacqui Dunkley-Bent at an event in support of nurses earlier this year at the Royal College of Obstetricians and Gynecologists.
In the United Kingdom, the National Health Service recommends that low-risk births be carried out either at home or in a birthing center, as opposed to a labor ward. Specifically, the NHS advised that for the 45 percent of women with low-risk pregnancies, giving birth in a midwife-led facility is "particularly suitable," per the Guardian. The advantages of delivering in a birthing center are that you can stay in the one room throughout your stay, medical interventions are lower, and of course that you can use a birthing tub to relieve pain and/or deliver.
In the U.S., evidence for midwife care showed state-by-state differences in outcomes, depending on how integrated midwife services were. States like Washington and Oregon had lower incidence of Caesarian sections and premature births, and lower infant mortality, per Science Daily. Only about 10 percent of births in the U.S. involve midwives, while hospital deliveries dropped 3.6 percent in the UK year over year, per the National Childbirth Trust. The biggest issue facing midwifery in the UK, in fact, is rising demand and an aging population of midwives. The U.S. seems to be slowly cottoning on, pushed by deplorable maternal and infant mortality rates, and greater awareness of the importance of holistic care.
Of course, quality healthcare isn't a problem for the royals, who can afford the $8,000 birthing suite at the Lindo Wing, per the Economist. But the postpartum benefits of a low-trauma birth, and continuity of care are impossible to write off, and certainly part of the reason that the birth team was on call in the lead up to the big day.
"We had a huge team," Professor Tiong Ghee Teoh, a consultant obstetrician and gynecologist, told Town and Country Magazine after the birth of Princess Charlotte. "For anything that could possibly go wrong we had a team of people behind each speciality. Everyone was sworn to secrecy about who it was."
For a royal birth, the doctors, nurses, midwives, and other support staff are selected secretly and must be on call up to three months beforehand. As reported in OK!, the midwives are on call from as soon as the early third trimester.
So when the world marvels at the Duchess of Cambridge once again walking miraculously out of the Lindo Wing just hours after delivering, remember that she not only had the resources to secure the best medical care in Britain, but — and perhaps more importantly — she had enlisted a powerful care model supported by centuries of birth.
CORRECTION: An earlier version of this article offered incorrect details around use of birthing pools in UK birthing centers and hospitals. It has been updated to reflect the scope of their use.
Check out Romper's new video series, Bearing The Motherload, where disagreeing parents from different sides of an issue sit down with a mediator and talk about how to support (and not judge) each other's parenting perspectives. New episodes air Mondays on Facebook.