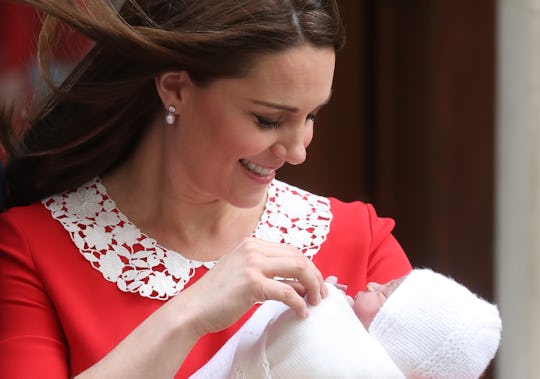 Chris Jackson/Getty Images Entertainment/Getty Images
Kate Middleton Opened Up About Motherhood & The Family Moments She Cherishes Most
Kate Middleton, the Duchess of Cambridge, has spent the last few years as a devoted mother and humanitarian. In addition to raising her three royal children, she is constantly giving her time to a variety of charities across the United Kingdom. And as the Royal Patron of East Anglia's Children's Hospices, Kate Middleton recently wrote a letter about cherishing motherhood in honor of Children's Hospice Week. In her letter, she discusses her favorite parts of being a mother and shares a reminder to appreciate life while it's here.
"This Children's Hospice Week, as Patron of East Anglia's Children's Hospices, I am celebrating the remarkable and life-changing support provided by children's hospices and palliative care charities across the U.K.," Middleton's letter began. "They offer a lifeline to children and families facing the unimaginable."
Middleton's letter continued by expressing how important it is for children to share what the enjoy most about life, as doing so can help spread joy. "The theme of Children's Hospice Week is 'Life's Short' and I am touched that children and young people are sharing what they love most in life and reminding us how precious time is for everyone," she continued. "By supporting Children's Hospice Week we can help them spread joy and positivity across the UK, encouraging everyone to make the most of moments that matter."
Then, Middleton went on to share what she loves the most about life, which are the moments she has with her family:
Spending quality time together is such an important aspect of family life and for me, as a mother, it is the simple family moments like playing outside together that I cherish. I hope you will join me in supporting Children's Hospice Week this year. Together we can champion the vital role that children's hospices play in helping seriously ill children and families to have more precious moments.
From the letter, it's palpable that Middleton really cherishes being a mother. She is a mom to Prince George, almost 5, Princess Charlotte, 3, and Prince Louis, who is still less than a month old. She has opened up about being a parent several times in the past — about both the good and the bad.
In a 2017 video, for example, for the "Heads Together" campaign, Middleton said, according to CNN:
Nothing can really prepare you for you the sheer overwhelming experience of what it means to become a mother. It is full of complex emotions of joy, exhaustion, love, and worry, all mixed together. Your fundamental identity changes overnight. You go from thinking of yourself as primarily an individual, to suddenly being a mother, first and foremost.
Additionally, Middleton has volunteered for the Children's Hospices and spent time with children with terminal diseases on several occasions the past, so she undoubtedly has a strong connection with the cause.
East Anglia's Children's Hospices provide personalized care for children with life-threatening conditions as well as support for their families, according to the hospices' website. The week of May 21 through May 28 marks Children's Hospice Week, a campaign raising awareness for children's hospice. The specific aim of this year's Children's Hospice Week is to remember that life is short, and that people should treasure the small moments, the website explains.
The hospices named Middleton their Royal Patron back in January 2012, and since then, she has been heavily involved. Later that year, she helped open a new hospice location, and marked the occasions by making her first public solo speech as a royal, as reported by TIME. "I am only sorry that William can't be here today. He would love it here," she said at the event, TIME reported, based on a report by People. "A view of his — that I share — is that through teamwork, so much can be achieved. What you have all achieved is extraordinary."
The duchess has shared messages in honor of Children's Hospice Week several other years as well, but none quite as personal as the one she shared this year. For example, she recorded a video message back in 2013, where she urged people to support their local children's hospice.
As a mother and humanitarian, it's clear that being the Royal Patron for these children's hospices is a cause very close to Middleton's heart, and it's wonderful that she is using her royal status to help the Children's Hospice Week campaign.