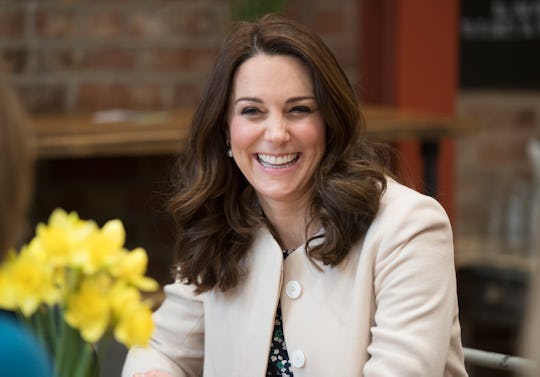 WPA Pool/Getty Images Entertainment/Getty Images
Kate Middleton's "Role" At Meghan Markle's Wedding Is Perfect For A New Mom
I am more excited about the wedding of Meghan Markle and Prince Harry than I was about my own. Why? Because I get to just hang out and watch the entire day unfold. In my pajamas at home, which is even better. I don't have to worry about whether or not the flowers will be delivered on time, or a family member might get slighted by seat placement at the reception or any of that stuff. And apparently, Kate Middleton doesn't have to worry about it either. Middleton's role at Meghan Markle's wedding is exactly what it should be for a new mom; just take it easy and have a great time.
When the American actress and philanthropist marries Prince Harry on May 19 at St. George's Chapel in London, don't expect Kate Middleton to be carrying a bouquet of flowers as a bridesmaid for her soon-to-be sister-in-law. Not according to Vanity Fair, at any rate. A source told the magazine that the Duchess of Cambridge, who is expecting her third child in April, has been told there's absolutely "no pressure" for her to have any role at the wedding, other than that of honored guest. Which we all know is the best role at any wedding.
Now before anyone tries to make Kate Middleton's role as simply guest about her relationship with Markle... can we just not? Not only is that whole pitting two women against each other for the coveted place of *favorite* super old and tired, but it's also patently untrue in this case. As the palace source explained to Vanity Fair:
Frankly, Harry and Meghan are just happy that Kate will be there given she will only just have given birth. They have told her there is no pressure on her to do anything, they just want her to enjoy the day.
Although Middleton might not have any official responsibilities at the wedding, she could very well have an unofficial role. It's a role she executes beautifully on a regular basis; indeed, it's a role she played at her own sister Pippa Middleton's wedding back in May 2017. Her two children, 4-year-old Prince George and 3-year-old Princess Charlotte, are reportedly expected to be page boy and flower girl at the wedding. Then there's the fact that Prince William is widely expected to be Prince Harry's best man and will be busy enough with his own duties (he joked a while back that he "hadn't been asked," but come on... we all know it will be you, William!) Which means Middleton might have to reprise her role as number one child wrangler, reminding us all of how adept she is at doing the crouch and shush, especially with that little minx Princess Charlotte. Bless her.
It seems even Prince Harry and Meghan Markle are thinking that Middleton could well be busy enough without the added pressure of bridesmaid's duties at the royal wedding; as the palace source told Vanity Fair:
They just want Kate to be able to enjoy the day and not worry about anything. Harry has said there's no pressure on her to do anything. They know Kate will have her hands full.
I actually think this is the nicest possible thing Meghan Markle and Prince Harry could have done for Kate Middleton; just let her wear a pretty dress and some fabulous hat that seems to be de rigeur for British royal weddings and have a great day. Because I feel like she's going to get a little misty about the wedding of her one-time favorite third wheel, Prince Harry, marrying the love of his life, especially with those postpartum hormones a-flowing. And it makes me extra joyful to think of her quietly weeping in the aisles.