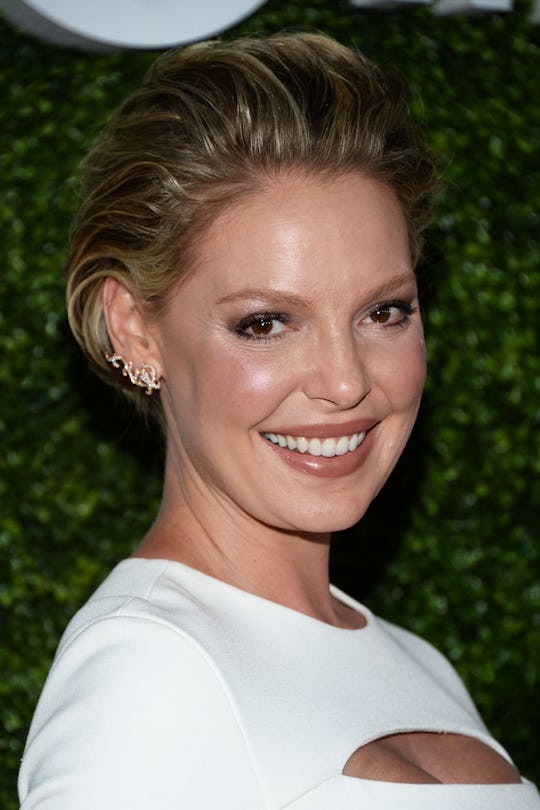 Matt Winkelmeyer/Getty Images Entertainment/Getty Images
Katherine Heigl Opens Up About Her First Pregnancy & Her Entire Family Is Thrilled
It's a truly exciting time for this growing family. Although she is already the mom of two adorable adopted daughters, actress Katherine Heigl has opened up about her first pregnancy (and soon-to-be third child) and the entire family is totally excited for the baby boy's arrival. The former Grey's Anatomy star has revealed before that she and her hubby, musician Josh Kelly, wanted to expand their family and didn't care how it happened — through adoption or biologically. This time it's the latter.
According to People, this will be the couple's first biological child, who are already the parents to seven-year-old Naleigh Moon, who was adopted from South Korea, and four-year-old Adalaide Marie Hope, who was adopted domestically in the United States.
As Heigl's budding baby bump continues to grow, she seems to be feeling the way most moms feel about their first pregnancies: Excited and a little nervous.
In a recent interview with News Corp Australia's News.com.au, the Knocked Up star opened up about her first time with a bun in the oven and whether or not she's nervous for the big day in January, as her due date has been reported.
"I'm not nervous but I'm only 20 weeks pregnant now," Heigl said in the News.com.au interview. "I have this inkling that I will become nervous as it approaches but there's nothing I can do about it now."
But, she knows she's not the only mom to feel this way and that helps her feel a bit more relaxed about the whole experience.
"It's done. So I can't worry about it," she said in the same interview. "Millions of women have done it so I'll be all right. Although I will be asking for an epidural a week before."
Thankfully for the 37-year-old blonde mama, she hasn't been physically plagued by her pregnancy yet, but has certainly been experiencing plenty of pregnancy feelings and cravings. According to the same News.com.au interview, she said:
It's been a relatively easy pregnancy. I feel great. I don't feel pregnant, I just feel chubby and that's hard as an actress in Hollywood. You work so hard and so diligently to not feel that way and not to look that way, and now all I want to do is eat! So, I've just had to surrender to this whole experience. But now I can feel him moving, which is amazing.
The newest addition to the Heigl's family is definitely a heartwarming chapter of their family's story. As the soon-to-be mom-of-three goes through all of the changes a pregnant body goes through — both emotional and physical — her beautiful family is along for the ride.
"This is an incredibly exciting time for us filled with hope, anticipation, and hormones," Heigl said in a statement to People in June. "Well, only I'm filled with hormones, but everyone in the family gets to enjoy them."