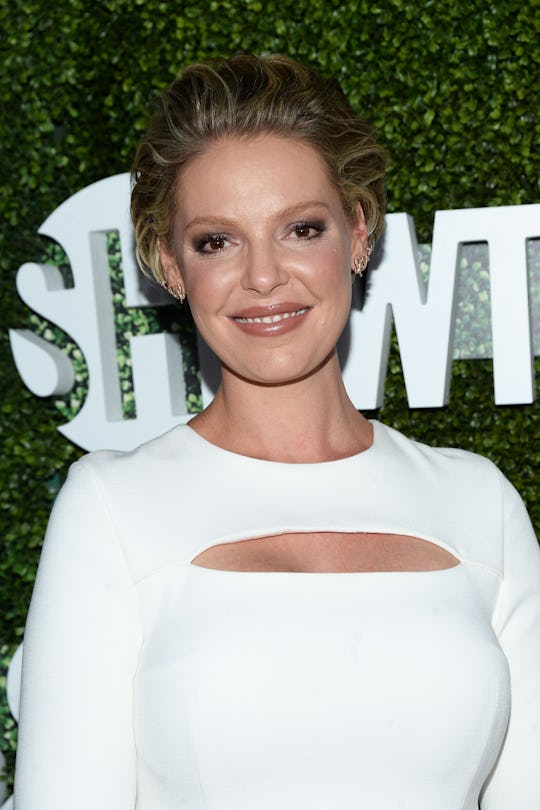 Matt Winkelmeyer/Getty Images Entertainment/Getty Images
Katherine Heigl's B-Day Post For Her Daughter Is Awesome
There's a framework of language people sometimes use with little girls. Descriptors like "pretty," "sweet," "nice," "good" get used time and again without anyone fully realizing what they're saying or, perhaps more importantly, the subtle message they're sending. Which is why I'm loving Katherine Heigl's message for her daughter's fifth birthday. The actress changed the common language we use to praise little girls time and again in her birthday message by clearly considering the sort of person she sees when she looks at her daughter. And it's this sort of message that can make all the difference in the world.
Heigl's middle child with singer Josh Kelly, Adalaide Marie Hope Kelly, turned 5 on Wednesday, so Heigl, took to Instagram to celebrate Adalaide as part of the day. She shared an adorable selfie on social media with the caption:
It is my sassy, fiery, break dancing, bug loving, whip smart, fiercely loyal, daddy's girls' birthday! HAPPY 5TH BIRTHDAY ADALAIDE MARIE HOPE KELLEY! I am so incredibly grateful for the light, the love, the laughter, the purpose, the joy and the grace you have brought to my life! Thank God the world has a girl like you to show us how it's done!
These are the sort of descriptors little girls can aspire to; who doesn't want to be "sassy" and "whip smart" and "fiercely loyal." I mean, I don't even know Adalaide, and I can already tell from her mother's post I would totally want to be her friend.
Adalaide is Heigl's middle child, younger sister to 8-year-old Naleigh and big sister to new baby, Joshua Bishop. Naleigh and Adalaide joined the Kelly brood via adoption, and when Heigl told the girls she was pregnant with baby Joshua, they were reportedly pretty confused. As Heigl pointed out in an Instagram post:
The girls were excited to discover they were going to have a baby brother, but very confused when I explained that I was pregnant and had to grow him first!!
While Heigl didn't share the family's plans for Adalaide's birthday, I can just imagine what they must look like. I'm hoping she spends the day catching fireflies, running in the tall grass, eating delicious cake, creating music, and being loved up by her family.
And, oh yes — not thinking about the way she looks for one second. Because of all the wonderful things her enlightened mom noted in her tribute to Adalaide, her looks never made the list. Which is just as it should be for a fiery young girl of 5-years-old.