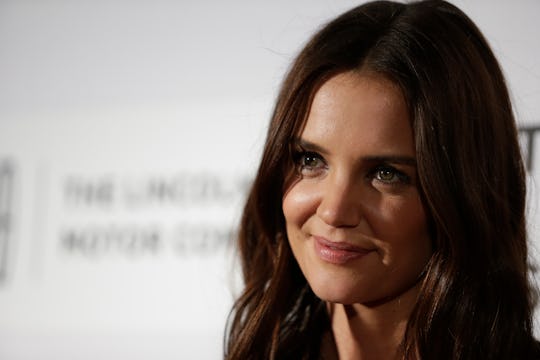 KENA BETANCUR/AFP/Getty Images
Katie Holmes Talks About Raising Suri & It Shows They Share A Special Bond
In a recent interview with The New York Times, Katie Holmes talks about raising Suri, her now 10-year-old daughter whom she shares with ex-husband Tom Cruise, and it shows the special bond they share. The 37-year-old actress is typically very private about her family life, but in this heartwarming interview she makes it clear that motherhood comes first, even though she's been incredibly busy with her accomplished acting career and directing debut in the feature film All We Had, which she dedicated to her adorable daughter, writing that "Dreams come true."
Holmes — who has affectionately referred to Suri as "my little one" — told Kathryn Shattuck for The New York Times in a phone interview that her parenting style stems from her own mother's, but she does her best make sure that Suri gets to enjoy "being a kid without too much of Hollywood coming into that."
"Honestly I think that there are so many books and opinions about how to be a great mom, and you have good days and bad days, and sometimes you do great and sometimes you could have done better," she continued. "But I have to say I'm really enjoying having a 10-year-old. She's a remarkable person."
And this isn't the first time the Dawson's Creek alum has emphasized how much she strives to be a good mother. In an interview with Modern Luxury, Holmes said that she gives herself a curfew because being a mom is her main job right now even though she's juggling projects.
"When I'm not on set, I'm being a mom. I'm doing mom stuff," she told the magazine last month. "When I go to an event, I leave at 10 p.m. because it's really important to me to be a mom that is dependable."
And despite her busy work schedule, Holmes said spending time with her daughter is a top priority, while ensuring that her 10-year-old has a normal childhood with two Hollywood parents in the spotlight.
"It's important to me," she said in the same Modern Luxury interview. "We do a lot of cousin time with my nieces and nephews. I think the most important thing in my life is giving my child the childhood I want her to have. That comes first. That dictates where I work and when I work because it's my main job right now."
A mother's bond with her daughter, and vice versa, is something beautifully unique and Holmes' bond with Suri is clearly a remarkable one.