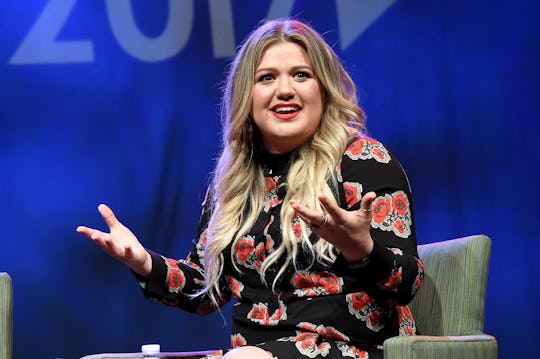 Rick Diamond/Getty Images Entertainment/Getty Images
Kelly Clarkson Is Done Having Kids Because Pregnancy Isn't Easy For Everyone
Singer Kelly Clarkson is someone that people can relate to. Maybe it was because Americans saw her blossom from a Texas girl with big dreams on American Idol to becoming the first person to win American Idol, ever. Maybe it is because since then, Clarkson has used her platform as a singer to be honest about motherhood with her fans — and she's not afraid to speak her mind about things that people can relate to, which is awesome. It was revealed on Wednesday that Clarkson is done with having kids and anyone who has gone through a troubling pregnancy like Clarkson has will be able to relate 100 percent.
Clarkson is the mom to two young (and adorable) children with husband Brandon Blackstock — 3-year-old daughter, River Rose, and 1-year-old son, Remington Alexander. Although her kids are still young, she and her husband have made up their minds: they're done having children. And that is perfectly OK.
During an appearance on KTU's radio show, Carolina and Cubby In The Morning, this Wednesday, Clarkson opened up about that decision, saying that she underwent surgery to assure that, according to the segment. As reported by Us Weekly:
Oh God, those tubes are gone! That's blasphemy. We don't even speak of it. We're both fixed in our own ways, yet we will still get pregnant again somehow.
In 2016, during an interview on the Sirius XM radio show, The Jenny McCarthy Show, Clarkson also revealed that her husband got a vasectomy after she gave birth to her son.
But this decision for them to not have any more kids will make sense to anyone who has ever had a complicated pregnancy. Both of Clarkson's pregnancies were not easy, based on the countless interviews she has given.
Clarkson has stated time and time again how difficult being pregnant was for her. While pregnant with her son, Clarkson told CBS This Morning that she had to get IVs and fluids when her battles with morning sickness turned into all-day sickness (and led to dehydration). And in 2015, Clarkson revealed to BBC Radio that her first pregnancy with her daughter was "horrible" and that her morning sickness even put her in the hospital.
While pregnant with her son in 2016, during a radio show appearance with Australia's KIIS FM, Clarkson talked about those complications, saying, according to Entertainment Tonight:
Honestly, the first one was really rough, and I was like, "Oh it can't happen again," and no it happened, like way worse this time. I just get hospitalized and I have to get fluids. It's just like, my body was not made to be pregnant. I wish I was like the girl that...it's beautiful, but it's not.
This is because Clarkson has revealed that she suffers from hypermesis gravidarum, which is characterized by continuous vomiting leading to different complications. If you've heard about it before, it might be because Kate Middleton, Duchess of Cambridge, also suffers from this pregnancy condition. Clarkson said during an appearance on 103.7's Leigh Ann & Courtney Uncorked in 2015, according to Entertainment Tonight:
I have this thing, like 1 percent of women get, its called hypermesis. It's horrible. It's like the darkest places I've ever been in my life.
Luckily for Clarkson and her husband, the chance of them getting pregnant is slim, although she may feel different. With Clarkson reportedly undergoing tubal ligation — aka, getting your tubes tied — after giving birth to Remington and Blackstock's vasectomy, getting pregnant is incredibly rare (but still possible). Getting your tubes tied is 99.9 percent effective in preventing pregnancy, according to Parents. And according to the Centers for Disease Control and Prevention, both of those methods are the most effective methods of family planning.
Clarkson's honesty about the decision to stop having kids and ways of going about preventing future pregnancies from happening is so refreshing. And for those who've hated pregnancy, you're definitely not alone.
Watch Romper's new video series, Romper's Doula Diaries:
Check out the entire Romper's Doula Diaries series and other videos on Facebook and the Bustle app across Apple TV, Roku, and Amazon Fire TV.