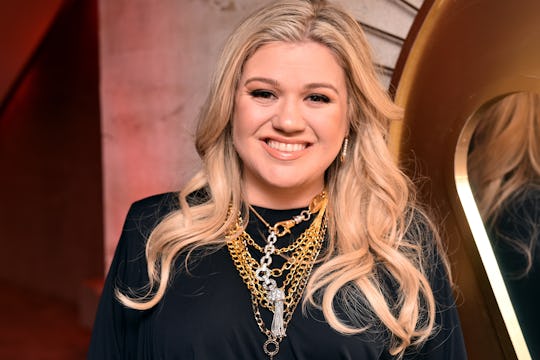 Jared Siskin/Getty Images Entertainment/Getty Images
Kelly Clarkson Shares How She's Raising All Of Her Kids To Be Their Unique Selves
I have a stepparent. My kids have had a stepdad. It's a situation that is incredibly common, but still somehow so incredibly complicated. I guess it's extra difficult because there are so many complex feelings involved, so many inter-connected relationships that can feel pretty precarious and difficult to maintain. Which is why I was so impressed to read that country singer and American Idol alum Kelly Clarkson is raising all her kids to be their unique selves.
Because the Grammy award-winning singer isn't just talking about the two children she welcomed with husband Brandon Blackstock, 4-year-old daughter River Rose and 2-year-old son Remington. During an interview with People, Clarkson naturally includes Blackstock's children from his first marriage, 16-year-old daughter Savannah and 11-year-old son Seth.
The "Love So Soft" singer opened up for the magazine's new "Beautiful Issue" to discuss how each of her kids are so completely different. And to my way of thinking, that's absolutely proof of genuinely good parenting (although I'm probably biased because each of my kids is a completely unique goofball). According to People, Clarkson pointed out that their oldest daughter, "she's 16, she pushes herself. She's an athlete, she rides horses, she's a crazy, amazing equestrian. And she's kind of very focused."
In her People interview, Clarkson went on to describe her 11-year-old stepson Seth, "who is our gamer. He's 11 and he's kind of our actor as well. He's a really fun, creative kid."
Clarkson also noted that her daughter River Rose "will run a company one day because there's no way she's gonna work for anyone," and little Remy is "like our oldest, I think he's gonna be more the athlete, just like, 'How can I knock something over?' He's like the Tasmanian Devil — anything that can and will be destroyed, is."
So here's why this is important: there are many cases of parents who start so-called "second families" and don't seem to spend enough time focusing on their first family. As of 2009, the U.S. National Library of Medicine National Institute of Health noted that more than 60 percent of children were no longer living in a household with both of their biological parents, and those numbers have gone up since then. Which means there are a many children out there who might be in the same situation as Savannah and Seth Blackwood, first children trying to find a place in their father's "new" family. But that's clearly not the case with Clarkson, who's very obviously a loving and engaged stepmom.
Of course, there are extenuating factors that make Clarkson's close relationship with her stepchildren easier; like the fact that she reportedly has a solid relationship with Savannah and Seth's mom, Blackwood's ex-wife Melissa Ashford-White who told Radar Online that she "adores Kelly and Brandon together." Ashford-White also said that the blended family "hangs out all the time," and even visited Clarkson in the hospital when she welcomed River Rose in 2014.
Clarkson developed a strong relationship with Savannah and Seth from the beginning of her marriage, calling them "their kids" right out of the gate and even going to bat for them when rumors were swirling around Twitter back in 2013 that Blackstock was cheating on her, according to CMT, saying:
False rumors don't bother me & Brandon but they do affect the lives of our 12 & 7 yr old. They're kids & don't get that people can print lies.
But perhaps more importantly, The Voice judge has maintained that relationship even after giving birth to River Rose and Remy. She seems to encourage them as older siblings to her two younger kids, and clearly sees them as their own unique, interesting, diverse entities. It's all too easy to forget, as a stepparent, that this situation can be just as fraught for the kids as it might be for you, if not exponentially more so. Because they don't really get a say in the way things are going.
Clarkson was excited about being a stepmom from the outset, as she told Ryan Seacrest during a 2013 radio interview prior to her wedding to Blackstock, according to She Knows:
I have a 12-year-old and a 6-year-old now... after being single for six years. We all live together and everything. It's so different, but it's perfect. They're awesome, and I actually really dig the mom thing.
Even when Clarkson was starting to think about having a baby, she was still gushing about her step kids, like in this 2013 interview with Valentine in the Morning, according to The Mirror:
I really lucked out with the whole kids situation. They're amazing.
So I really do think Kelly Clarkson is nailing it as a mom, both step and birth. Simply because she seems like she just loves her family unconditionally, and maybe that's enough.
Check out Romper's new video series, Bearing The Motherload, where disagreeing parents from different sides of an issue sit down with a mediator and talk about how to support (and not judge) each other's parenting perspectives. New episodes air Mondays on Facebook.