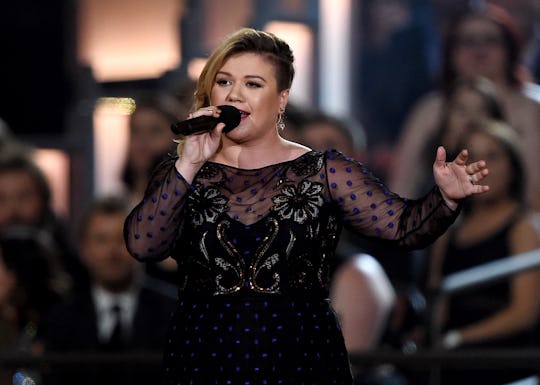 Ethan Miller/Getty Images Entertainment/Getty Images
Kelly Clarkson Quotes About Pregnancy Are Hilariously Real
Kelly Clarkson has been an idol to many in a lot of different ways — and for more than just her incredible vocal cords, with which she graced us all 15 seasons ago on American Idol. Lately, Clarkson has been in the spotlight for giving amazing advice to her fans, standing up against Internet haters and fat shaming, and the level of realness and openness she shares with her fans. With Clarkson's second child is the way (Clarkson is also a stepmom to husband Brandon Blackstock's two children), fans couldn't be more excited, in part because of the hilariously relatable Kelly Clarkson quotes about pregnancy that have been flooding their social media timelines. Even when you're rich and famous, it seems morning sickness will kick you in the butt.
The 33-year-old singer has been down to earth and open in the past about her difficult pregnancies and says she is done giving birth after this one, according to Entertainment Tonight. "Oh, no, we are done," Clarkson joked in a radio interview with Australia's KIIS FM. "Oh good Lord, yes, I can't be pregnant again. This will be our number four total, so we're good."
Clarkson is already the mother to 1-year-old River Rose and a stepmom to her adorable husband's two kids. Both the American Idol alum's pregnancy and hilarious parenting anecdotes are so real and relatable that it completely makes sense why her fans love her so much. Here are a few of her most endearing moments and quotes so far.