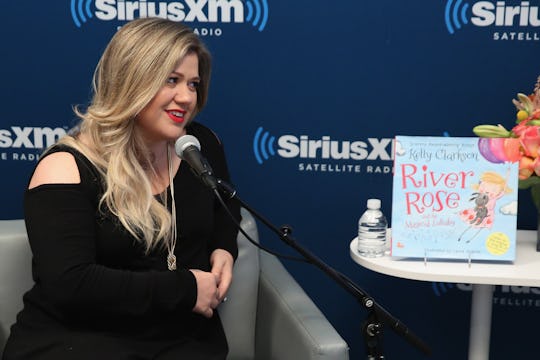 Cindy Ord/Getty Images Entertainment/Getty Images
Kelly Clarkson & River Rose Have A Dance Off To 'Push It,' & It's Hilarious
Just when I thought I couldn't be any more in love with Kelly Clarkson's little girl River Rose, this happens. I mean,the kid already has one of the coolest names around, right? She has a children's book named after her. And now with this new video of Kelly Clarkson and River Rose having a dance off to "Push It" by Salt-N-Pepa, the kid officially wins the internet.
Actually, I'm going to give Grammy award-winning singer Clarkson full props here too: she and River Rose (do we always use her middle name? I think we should) accepted the #DiabetesDanceDare challenge to raise awareness for diabetes. The pair totally rocked the sideways baseball cap and casual day wear look, of course, but here was my favorite thing: Clarkson gleefully shouting out "This is totally inappropriate for a 2-year-old!" And OK, I guess some might consider "Push It" a little inappropriate for a toddler. But those people are no fun, I'm almost sure of it. So let's not worry about the haters and take a little time out from our usual Wednesday activities to enjoy a little River Rose time. Because the internet gods are smiling on us today; let's enjoy it while it lasts.
Now if that didn't make you smile; my condolences. You clearly must have a cold, black heart.
Clarkson passed along the #DiabetesDanceDare challenge to the judges from The Voice: Alicia Keys, Miley Cyrus, Adam Levine, and Blake Shelton, as well as host Carson Daly.
While we all wait for the judges to respond to the dance challenge thrown down by Clarkson and River Rose, shall we take a moment to bask in Clarkson's clear, pure joy in being a mother? This video is further proof, to me, at any rate, of just how, like, normal Clarkson is as a parent. There's a baby gate in the background, which is always useful for trapping toddlers and soon-to-be-toddlers (Clarkson's son Remy is 5 months old), and a sippy cup on the kitchen counter. River Rose is obviously bonded with her mom in an everyday sort of way.
Plus, her style is on point.
Clarkson and I might not be friends (yet...), but I am feeling just so happy for her. Almost happy as she is with her own life. She recently spoke to Entertainment Tonight about the joy of motherhood:
It sounds so cheesy, but I feel way more confident, way more empowered and way more like I've got this. You just have so much going on all the time, especially because I'm a working mom -- so many moving parts and so much navigation -- that I just feel like I can do anything. I feel like the head of the village.
And what a village it truly is; Clarkson is also a doting stepmom to husband Brandon Blackstock's two kids from a previous marriage.
Life in general is looking good for Clarkson. Now if I could just get her to meet me for a cup of tea...