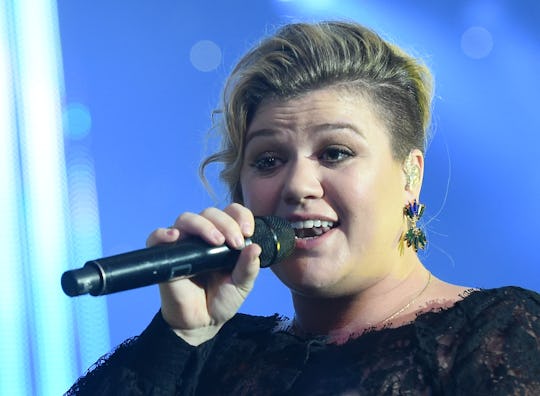 Ethan Miller/Getty Images Entertainment/Getty Images
Kelly Clarkson Says She Feels Sexier As A Mom, & It's A Reminder Every Mom Needs
Do you want to know one of the things I have loved about being a mother? Other than the humans I've been raising, of course. Yoga pants. Also leggings, long T-shirts, and I hear a rumor that overalls are making a big comeback, so probably overalls too. Because for me, motherhood allowed me to give it a rest with the hair appointments and the eyeliner and the trying all the time. But that doesn't mean I don't still feel fabulous. Just like Kelly Clarkson, apparently. Clarkson says she feels sexier as a mom, because your "give-a-crap factor drops." And I know exactly what she means.
In a recent interview with TODAY's Willie Geist, the "Love So Soft" singer opened up about the many ways she has changed since getting married and becoming a mother and stepmother. Ever since Clarkson married husband music manager Brandon Blackstock and became a mother of two (daughter River Rose is 3-years-old and son Remington is 17-months-old), Clarkson admitted that she has "never felt sexier." When Geist asked her if being a mother changed her music, the Grammy award-winning singer (who is also stepmother to Blackstock's kids, Seth and Savannah) said:
I know it sounds funny but I've never felt sexier, I've never felt more confident, I've never felt more empowered. I don't think you have to get married or have children to have those things, but that's what happened to me. It's like your give-a-crap factor drops.
The host of The Voice has often been criticized for experiencing weight gain (like most people who give birth to humans, but okay), and it couldn't have been easy for a young woman trying to figure out her own identity in such a tough world. But the girl has figured out how to shut down the haters. One of the songs on her recently released album, Meaning of Life, addressed the frequent criticism she has faced over her weight. "Whole Lotta Woman" is a song about a woman getting comfortable in her skin, a topic Clarkson is well-versed in these days. As she told The Daily Mail:
The media has always been obsessed with it. And I have felt conflicted over the years. Do you address it? Do you talk about it? Because then you just add to the noise. But people like me to talk about it, so I don't really mind carrying that flag. I love that people come up to me and say: 'Because you are comfortable in your skin, you have made me more comfortable in mine.' That's the best compliment ever.
And the song... "I'm a warm biscuit on a Sunday morning." Enough said.
The former American Idol winner wasn't always this confident. After she won the massive singing contest in 2002, she told British magazine Attitude:
When I was really skinny, I wanted to kill myself. I was miserable, like inside and out, for four years of my life. But no one cared, because aesthetically you make sense.
She's come a long way since those days.
Clarkson has clearly worked hard to come to a place where she can withstand harsh comments and criticism. But becoming a mother and having a happy, healthy family seems to have helped enormously. And you can hear it in her new music; while Clarkson has always had a killer voice, Meaning of Life shows a different side of Clarkson. As many reviews have noted, she doesn't seem to want to prove herself to anyone. She's confident, sexy, and happy with the life she has.
In other words, Clarkson has figured out the actual meaning of life. Just stop giving a crap about what other people think. And believe me, kids can help with that.