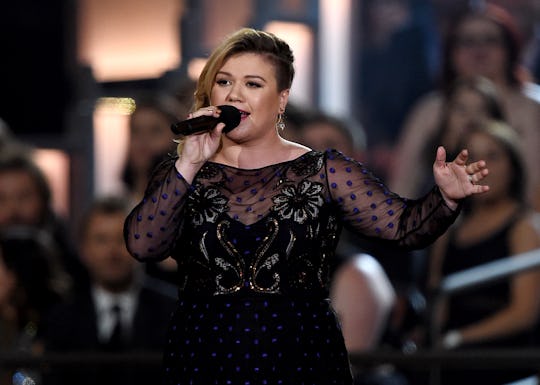 Ethan Miller/Getty Images Entertainment/Getty Images
Kelly Clarkson Shares A Family Photo With Remington, & It's Incredibly Beautiful
On April 14, Kelly Clarkson announced the birth of her son, Remington Alexander. It was another excruciating 10 days before she finally got around to sharing her first pics of little Remy, but it was totally worth the wait; the kid's adorable. The singer, who's known for sharing some amazing baby pics, has recently stepped up her game, and now Kelly Clarkson's first family photo with Remington Instagram will absolutely blow you away.
Aside from those first pics of Remy, Clarkson's timeline last caught our attention when she posted a Game of Thrones themed Christmas card with River; her husband, Brandon Blackstock; and Brandon's children, Seth and Savannah. The newest family portrait doesn't show the parents (she's less than two weeks post-partum and I don't blame her at all), but features all four of the kids for the first time. It seems that the family hauled an antique fainting couch onto their beautifully manicured lawn, as one does, and dressed the children in grayscale for a look that says, "Yes, this is impossibly posed and unrealistic, by by gum, our children and home are gorgeous, and we just wanted you to know that." Savannah cradles baby Remy at one end of the couch while Seth and River gaze at each other lovingly and make me almost regret my choice to only have one kid.
While I completely support parents who choose not to share photos of their kids online (I'm one of them), just about everyone enjoys a good baby picture, and Clarkson's never been stingy with them. Here are the first pictures of Remy:
Clarkson married talent manager Blackstock in 2013, when Savannah and Seth were 12 and six years old, and at the time, she told People, "They're awesome, and I actually really dig the mom thing." According to the Los Angeles Times, prior to getting married, the singer told Rachael Ray, "I never wanted kids, and now I want babies. ... I really want to make the time." It seems that Savannah and Seth changed her mind. So are there any more babies on the horizon? No way! In March, Clarkson appeared on Australia's KIIS FM, according to Entertainment Tonight, and when asked about more babies, she responded, "Oh good Lord, yes, I can't be pregnant again. This will be our number four total, so we're good." Clarkson's first pregnancy was difficult, and apparently the second one was even harder: "I just get hospitalized, and I have to get fluids. It's just, like, my body was not made to be pregnant." No need to apologize; four kids are plenty... And plenty cute, too.