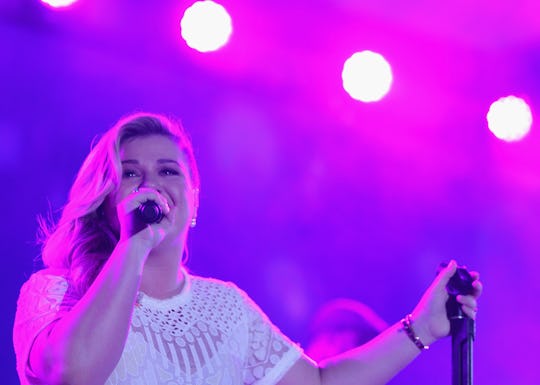 Isaac Brekken/Getty Images Entertainment/Getty Images
Kelly Clarkson's Dr. Luke Comments Show Kesha Isn't The Only Woman In Music Who Feels Controlled
Despite the court ruling denying Kesha an injunction that would allow her to be released from her contract with Dr. Luke (the producer whom she alleges sexually assaulted her), other celebrities who have since come forward in support of Kesha have certainly not been painting a very favorable picture of the record producer. In an interview Monday with Australian radio station KIIS FM, Kelly Clarkson claimed she was blackmailed into working with Dr. Luke by her record label, RCA Records, according to The Daily Mail. She claimed RCA threatened that they wouldn't release her music if she didn't collaborate with him. Romper reached out to RCA for comment, but did not immediately receive a response.
While Clarkson stopped short of commenting on Kesha's experience specifically, saying that, "her experience was different" and that "she wasn't there" to know exactly what happened, the singer did say that she felt Dr. Luke is "not a good guy," and that a lot of artists don't like working with him. While he has yet to respond to Clarkson's claim, Dr. Luke denies drugging and assaulting Kesha, writing on Twitter,
I didn't rape Kesha and... have never had sex with her. Kesha and I were friends for many years and she was like my little sister.
(The rest of Dr. Luke's tweets about Kesha's allegations can be found here).
Update: Linda Carbone, founder of Press Here, which represents Dr. Luke, issued the following statement to Romper regarding Kesha's allegations that Dr. Luke physically and mentally abused her:
Kesha's allegations against Dr. Luke are false, concocted to smear him publicly so that Kesha can get out of standard industry contracts that she entered into after she claims the alleged incident occurred. We have publicly insisted all along that Kesha should admit her lies and tell the truth. Everyone has a responsibility to learn the facts before condemning Dr. Luke in the media, particularly since Kesha swore under oath that her allegations are false. When the truth wins out in court, everyone will recognize that Kesha has victimized Dr. Luke and actual victims of sexual assault with her lies.
Interestingly, the story of Clarkson's feud with Dr. Luke is actually nothing new — although her willingness to admit to not liking him is. According to the Huffington Post, Clarkson previously refuted claims by label boss Clive Davis, who wrote in his 2013 memoir that Dr. Luke brought Clarkson to tears while working together on her song "Since U Been Gone," saying that it never happened. Davis also claimed that Clarkson told him she didn't like working with Dr. Luke or Max Martin, and that she'd "never work with them again."
At the time, Clarkson spoke out against Davis, saying, according to Billboard, that Davis' "memory lapses and misinformation…[feel] like a violation," and that she "refuses to be bullied" by him. And following a tweet by a Kesha fan site last month that quoted parts of Davis' memoir to draw comparisons between Clarkson's experience with Dr. Luke and Kesha's, Clarkson tweeted back, "I don't know where this info came from but yeah this never happened."
A couple weeks later, however, Clarkson hinted for the first time that she actually did have a negative experience with Dr. Luke, even if she does still dispute Clive Davis' take on it. In a tweet in regards to the Kesha case, Clarkson wrote, "trying 2 not say anything since I can't say anything nice."
But Clarkson certainly seems more comfortable speaking candidly about Dr. Luke now, telling KIIS FM,
We've clashed before... He's difficult to work with, he's kind of demeaning. Unfortunately when you have that poor a character that so many artists don't like you, that's not normal.
She continued:
Obviously he's a talented dude but he's lied a lot. Musically it's been really hard for me because he will just lie to people and it makes the artist look bad.
Despite the ongoing legal battles surrounding Kesha and Dr. Luke, as summarized by Vanity Fair — and also despite Clarkson's somewhat-still-vague claims about her own experience working with him — Clarkson's claims certainly don't paint Dr. Luke in the best light.
Of course, Kesha and Kelly Clarkson aren't the only female musicians to clash with their producers or record labels. Even Taylor Swift claimed she received pushback from her label before releasing her massive hit album 1989, according to Billboard. Swift told the magazine,
Everyone, in and out of the music business, kept telling me that my opinion and my viewpoint was naive and overly optimistic -- even my own label. But when we got those first-day numbers in, all of a sudden, I didn't look so naive anymore.
Unfortunately, not even hugely successfully female artists seem to be immune to feeling controlled by their labels and others in the industry. At the very least, by talking about it, artists like Clarkson and Swift are helping to pave the way for other women in the industry who feel their choices and opinions aren't respected and their voices aren't heard.