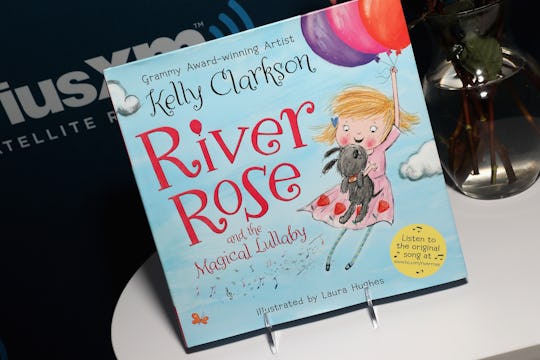 Cindy Ord/Getty Images Entertainment/Getty Images
Kelly Clarkson's Picture Of River Rose At Christmas Parade Is Total Holiday Goals
There is honestly nothing in this world that is better than having an adorable toddler to hang out with at Christmas. Because toddlers are basically living in the magical world of the holidays all the time, and they're just jazzed that the adults pick this one time of year to embrace it. I no longer have toddlers to hang with during the Christmas season, so you'll understand why this picture of Kelly Clarkson's daughter River Rose at the Christmas parade is giving me a sucker punch right in the ovaries. Oh how I miss it.
Grammy award-winning singer Clarkson is no slouch in the adorable toddler department; her two-year-old daughter River Rose Blackstock is just about as cute as a kid can get. Clarkson, who is married to talent manager Brandon Blackstock and stepmother to his two children, took River Rose to the 63rd annual Piedmont Natural Gas Nashville Christmas Parade on Saturday. It was River Rose' first Christmas parade, and not only was she clearly utterly delighted to be sitting on the float beside her mom (who was serving as the parade's Grand Marshal), she totally stole the show with her enthusiasm. Clarkson snapped a picture of the two and shared it on Instagram, and immediately the internet all wanted a River Rose of their very own.
Can we all just take a moment to digest River Rose' festive hat/coat/mittens ensemble? Is that too much to ask?
This isn't the first time Clarkson and her pint-sized BFF have won the internet. Heck, it isn't even the first time this week. The two visited the White House earlier this week and posed for a gorgeous picture in front of the Christmas tree, with Clarkson Tweeting;
So this happened yesterday at the White House with my little girl #RiverRose I can't handle it. It was her idea. She's getting a pony.
While Clarkson is lucky to have some extra-fancy holiday outings to share with River Rose, probably my favorite thing about her is that she's a regular mom who is pumped about doing the "normal" things with her little girl.
Like Elf on the Shelf. Clarkson shared a picture of the family Christmas tree on Instagram with the caption:
Elf on the shelf is back! River found two elves hiding in our tree! Where will they be tomorrow?
Clearly, Clarkson is enjoying having a two-year-old to hang with for the holidays. Because I have to say, I would take baking cookies in my pyjamas and watch How The Grinch Stole Christmas with a two-year-old over a cocktails and black dress kind of night every day of the week.
And I have a feeling Kelly Clarkson would agree.