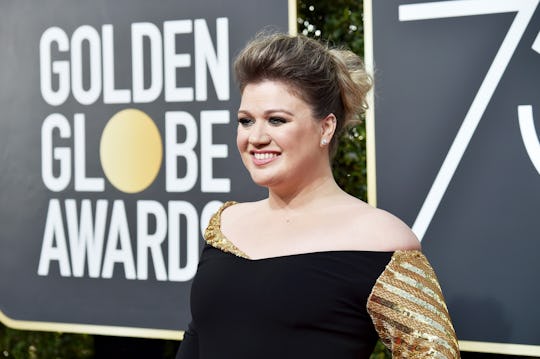 Frazer Harrison/Getty Images Entertainment/Getty Images
Kelly Clarkson's Reaction To Meeting Meryl Streep Was So Pure
She has been an icon for over a decade, but seeing Kelly Clarkson lose it when she met Meryl Streep on the Golden Globes red carpet, you could have been forgiven for thinking she was a fan who won a backstage pass. Speaking to Ryan Seacrest shortly before rejoining the red carpet, Clarkson, a mother of two, was in high spirits, tripping over her dress and gabbing excitedly to the host. Seconds later, she stepped back into the throng of black-clad Hollywood stars, and almost fainted as she caught sight of Michelle Williams and Meryl Streep.
Nothing is scripted on the red carpet, and this was as fresh as things come, with the always relatable Clarkson showing her green-ness on the Globes catwalk, struggling to get about the endless stairs (ha ha) in her gorgeous gown, and finding herself coming face to face with movie royalty. At first, she couldn't believe her eyes (even though... not so surprising?).
And Twitter loved it.
"That's Meryl! That's Meryl!" said Clarkson as she concluded her interview with Seacrest, in which she talked about these, her first Golden Globes. Seeing our favorite Oscar-winning actress, Clarkson held onto Seacrest's hand (she was still trying to get down the stairs, cut her some slack), looking like a dazed film siren from the 1920s, then clutching her belly as she took in the fact that Meryl — yes, that Meryl — had also seen her. It was a very breaking-the-fourth-wall moment and totally relatable in that, if any member of the millions-strong watching the event unfold on their televisions had seen someone as decorated as Streep, they would probably have behaved the same way.
Perhaps the best part about this clip is that Clarkson seems to be trying to hide from her idol, even as she is wearing an exquisite ballgown and descending a red-carpeted staircase with Ryan Seacrest and the entire E! News camera crew on her. On top of which, Streep could just as well have turned around and said the same thing about Clarkson, who is a three-time Grammy winner.
Interestingly, ahead of the awards show, Streep had been criticized by none other than Rose McGowan, one of the figureheads of the #MeToo movement, and an actor credited with helping to bring down Harvey Weinstein, who has admitted to harassing a number of actors but blamed it on the culture at the time. (In a statement, he said he has since worked on his behavior.) Ahead of tonight's awards show, McGowan tweeted her criticism of the Time's Up directive for women to wear black to the Golden Globes this year as a silent protest, saying women like Streep were complicit, having worked within the industry for decades, but later deleted the critique, relayed by the Huffington Post.
Streep, who is an elderstateswoman of the Hollywood industry, sent a statement to the Huffington Post through her publicist that read:
It hurt to be attacked by Rose McGowan in banner headlines this weekend, but I want to let her know I did not know about Weinstein's crimes, not in the 90s when he attacked her, or through subsequent decades when he proceeded to attack others.
I wasn't deliberately silent. I didn't know. I don't tacitly approve of rape. I didn't know. I don't like young women being assaulted. I didn't know this was happening.
But the accusation was perhaps the first piece of criticism we have seen of Streep, who is a multiple-Academy Award-winning actress, and has seen her daughters follow her into the industry. Mamie Gummer, Louise Gummer, and Grace Gummer are all high-profile figures and you would imagine that Streep would not have let them follow her path if she believed it would lead them into the path of predators.
Clarkson has proven a down-to-earth mother to her two young children, and could no doubt relate to Streep, who took Clarkson's freakout in stride, generously greeting her on the red carpet in her black gown. One of the best things about this Golden Globes is the sense of sisterhood, and Clarkson's reaction to meeting her idol proved that.
Check out Romper's new video series, Romper's Doula Diaries:
Watch full episodes of Romper's Doula Diaries on Facebook Watch.