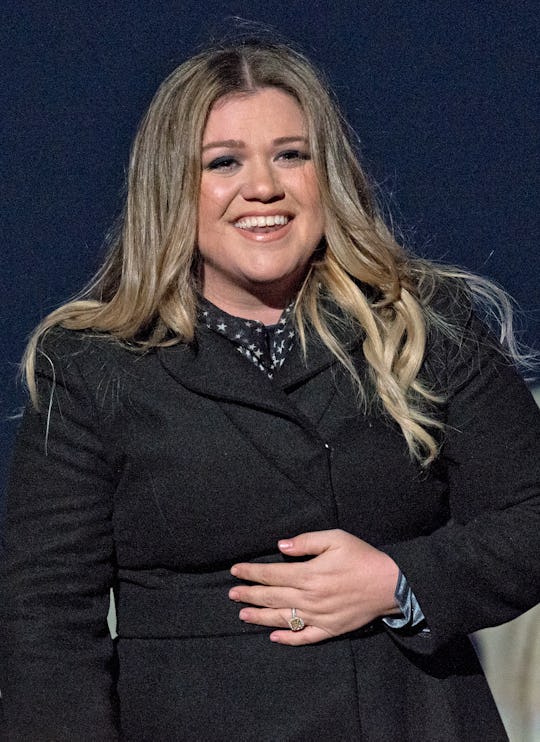 Pool/Getty Images News/Getty Images
Kelly Clarkson Reacts To Surprise Vacation As Any Mom Would
Is there any mom out there who doesn't love to find out she's getting a holiday? I don't mean one of those holidays where you are basically doing all of the same things you do at home but now in a kitchen you don't recognize kind of holiday. I mean a real get-away. It's the best thing ever, no matter who you are. Even if you're, say, a world famous pop star with buckets of money. For example, check out Kelly Clarkson's reaction to her own vacation surprise. It's destined to be a classic.
When Clarkson turned 35 on Monday, her friends gifted her with just about the most thoughtful thing you can give a mom: a scavenger hunt that lead to a surprise vacation reveal (note to my own friends, my birthday is in four months and I've got a bag packed by the door, just in case). One of the highlights of the scavenger hunt was a Scrabble challenge: Clarkson had to rearrange the tiles to find out she was being treated to a girls' getaway at a mystery location. And her reaction, which she posted to her Instagram account, was exactly what you might expect from a mom of a baby (son Remington), a 2-year-old (daughter River Rose), and stepmom to two teens (Seth and Savannah, from husband Brandon Blackstock's first marriage). She lost her mind.
Clarkson captioned the video:
Woke up this morning to a birthday scavenger hunt that ended with an anagram!! Best surprise ever! #morninghair #whereisthegirlstrip #sweaty
Her reaction? Totally priceless. And utterly relatable. First there's the confusion. Clarkson's initial reaction was, "Wait, what?" as she assembled the tiles to read "a girl's trip." Then came the excitement. The slowly dawning reality as her friends explained she needed to pack a bag so they could leave on Tuesday, that they wouldn't be telling her where she was going, and that her mom and sister would be joining them. And then it hits. Hanging with the girls. No kids. Even when your kids are as adorable as little Remington and River Rose, let's get real here... every mom still needs a break.
Even a mom who clearly gets an insane amount of joy out of raising her kids as Clarkson clearly does needs a holiday. The "Miss Independent" singer talked about seeing River Rose through the "terrible twos" during an interview with Ellen in October, and got real about the dark side of toddlers:
She's a terrorist. She's so bossy. She can be the most lovable human in the world and then just... mean.
I hope Clarkson gets pampered like crazy on her girls' holiday. And I hope the cocktails are plentiful.