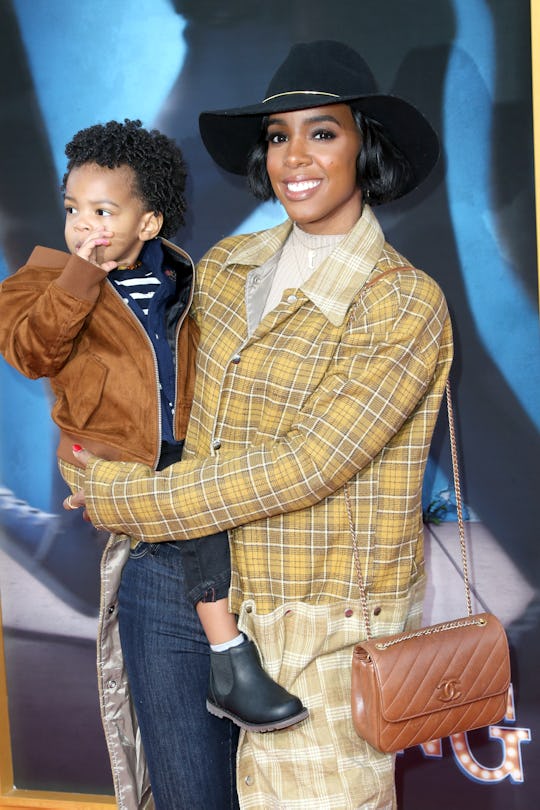 Frederick M. Brown/Getty Images Entertainment/Getty Images
Kelly Rowland Gets Real About Motherhood
Aside from being totally charming and down-to-earth, the way Kelly Rowland discusses motherhood and her new parenting book makes you want to be her best friend and go on regular coffee dates with her to discuss the trials and tribulations of this thing called parenting. In a recent interview with New York Magazine, the former member of Destiny's Child opened up about she handled her pregnancy with her own little one — adorable 2-year-old son Titan — her friendships with fellow moms and friends trying to conceive, and the basis of her new book for new moms and moms-to-be entitled, Whoa, Baby!: A Guide for New Moms Who Feel Overwhelmed and Freaked Out (And Wonder What the #*@& Just Happened).
Most moms and pregnant women are totally confused by the strange things their body does to them. Sure, you talk about your swollen feet and odd hair growth with your friends. But ultimately, unless you're a medical professional, you probably don't have a clue what's going on. And that's how Rowland approached this funny and totally relatable guide, which was published earlier this month. In addition to co-writing it with her obstetrician, Dr. Tristan Bickman, she also brought in other medical professionals to dish out expert advice on things that most expectant moms go through.
"[Accessing experts for my book] was so important to me," Rowland told The Cut, a site for women run by New York Magazine. "Because one, I don't know it all, at all. Two, I'm so new to this mother thing. And three, I didn't go to school for this sh-t. That's why I called Dr. Bickman, that's why I asked my physical therapist, my therapist. I asked for other people who are incredibly gifted in their worlds to participate in this book."
And, as she told The Cut, she approached her first book almost in the same way she did with her first pregnancy.
"I kind of treated the experience of having my baby like a show. I know that sounds crazy. But I wanted to have the right coaches, like I was getting ready for a tournament or a track meet," Rowland said, in the same interview. "I got my coaches in place. I had an amazing doula, who helped me connect my body and my mind, and my therapist — who's in the book — helped me ask myself questions about motherhood. I just felt myself getting really prepared and ready."
But there is one thing she'd handle differently if she and her husband, Tim Witherspoon, decide to have a second child one day. "I probably won't … eat as much food," Rowland joked to The Cut. "Because I overindulged — I got the best oxtails, rice, and gravy, a burger, fries, chocolate ice cream with peanut butter, cherry pie. I went so crazy. I don't think I'll go that crazy again."
As The Cut mentioned, Rowland's book discusses the importance of having mom friends and how to help a friend who is trying to conceive but is not having success.
"I always suggest talking to a doctor, or someone else who's gone through trying and having trouble — even following certain women on Instagram," Rowland told The Cut. "I always try to be as supportive as I can. It breaks my heart a little, because you want them to experience that same joy you do as a mom."
She also recommend advice she got from four other moms: Find a doctor that you are totally comfortable with, like she did with Dr. Bickman, because it will make the experience more enjoyable and, more importantly, less stressful.
The 36-year-old Empire actress may not be a doctor, but her advice on pregnancy and all the different aspects of motherhood is solid. It's been two years since she welcomed little Titan, and as any mom knows, those precious moments and life lessons are invaluable.