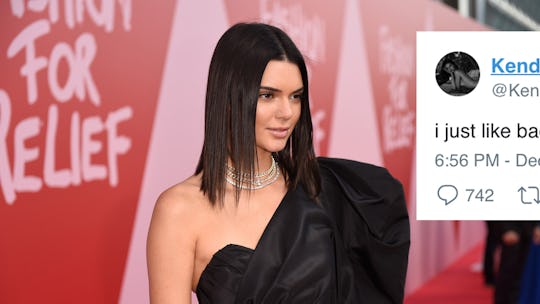 Antony Jones/Getty Images Entertainment
Kendall Jenner Responds To Pregnancy Rumors With One Epic Tweet
The Kardashian baby mania is too real. After Khloe Kardashian and Kylie Jenner's reported pregnancies were first made public in September, people could not help but to speculate about the other members of the extended Kardashian-Jenner family. But on Saturday, after people wondered if Kendall Jenner was pregnant, Kendall Jenner responded to the pregnancy rumors with one epic tweet to shut every speculator down. Spoiler alert: she's not pregnant, everyone. She just really likes food.
Why would people think that Kendall is pregnant? Because of one Instagram post that got everyone talking. On Saturday, Kendall shared a photo of a selfie of herself to her account, looking super cute in her polka dotted dress. All would be normal, except for the fact that there is a bulge in her abdominal area — that got people excited. Fans took to social media on Saturday to speculate that another member of the Kardashian-Jenner family could be expecting another child. But Jenner is not like her older sister, Khloé, who waited three months to confirm that she was pregnant, or her younger sister, Kylie, who hasn't addressed it, at all. Instead, she took to Twitter to kibosh the rumors altogether. She just likes carbs, OK? And there is nothing wrong with that. Amen, sister.
It's unfair for people to be on Kendall this much that she would feel the need to defend herself almost immediately after the photo was posted. While practically every Kardashian fan is waiting for Kylie to say something about the pregnancy at this point, its silly for people to focus their attention to other family members. Boundaries need to be and should be respected, especially since this family elects to put themselves in the spotlight.
But at the same time, it is awesome that at least one member of the Jenner family is immediately shutting down the rumors. If fans can't get Kylie to speak, then at least Kendall has said something — it is silly to admit, but that is pretty satisfying in the least. People are applauding Kendall on Twitter for the way she expertly shut down the haters — because loving bagels is something that practically everyone can relate to.
Does Kendall Jenner even want to be pregnant in the future? That is something that is entirely too unclear. While both Khloé and Kylie have stated that they want to start a family at some point in time, Kendall has remained silent on her ideas of children. But Kendall has flirted with the idea, through a prank, of course. During an episode of Kocktails With Khloé in 2016, Kendall prank called older sister Kim Kardashian and told her she was pregnant. But, according to People, Kim didn't take the news too well. "Are you kidding?" Kim asked Kendall, according to People. "Are you calling looking for mom?" That is definitely one way to handle the news.
Speculating that Kendall was pregnant was a little bit of a waste of time. Photos from over the holidays and the Kardashian-Jenner Christmas card show that Kendall is definitely not pregnant. She is a full time model after all. But Jenner does have a man in her life — she is reportedly dating Blake Griffin, a basketball player for the Los Angeles Clippers, according to E! News, since the couple was first spotted together in August. Yet, according to E! News, neither Kendall or Griffin have confirmed or denied these rumors.
After shutting down the pregnancy rumors, people should focus their attention away from Kendall in this new year. There is still one very important member of the Kardashian-Jenner family (ahem, Kylie) who still has not confirmed or denied their own rumors herself. Your turn, Kylie.