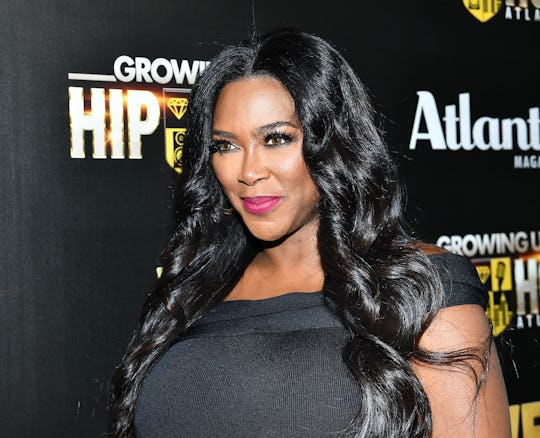 Paras Griffin/Getty Images Entertainment/Getty Images
Kenya Moore of 'RHOA' Welcomes A Baby Girl At Age 47
Kenya Moore may no longer appear on The Real Housewives of Atlanta, but she has just moved onto an equally exciting adventure: motherhood. On Sunday, Kenya Moore gave birth to a daughter — and she sounds so excited to finally have her baby girl after a slew of complications.
Moore, 47, delivered Brooklyn Doris Daly at 9:39 a.m. ET on Nov. 4, People reported on Sunday, just a few hours later. Doris weighed 5 lbs. and 12 oz. and is perfectly healthy. "Brooklyn is very alert and active," Moore reportedly told People. That must be a huge relief to Moore and her husband Marc Daly, since Moore experienced a few complications during her pregnancy. (More on that in a moment.)
The couple moves fast, and they have already revealed the significance of their little girl's meaningful name. "Brooklyn because that's where we met and fell in love, and Doris after my grandmother who passed away last year and who raised me," Moore told People.
For fans of The Real Housewives of Atlanta alum, it shouldn't be much of a surprise to hear that she gave birth, considering the tease she shared with fans earlier this weekend. On Saturday, she Instagrammed a photo of her very pregnant self in a hospital bed. "If you want to make God laugh have a plan... won't be long now. Pray for us 🙏🏾 #babydaly #weloveyou #prayers," she captioned the shot.
In late October, just a week before giving birth, Moore revealed that she had been diagnosed with preeclampsia, ET Online reported. Preeclampsia is when a pregnant woman suddenly develops high blood pressure, which is often signified by swelling in the feet, legs, and hands, according to WebMD. The website adds that the condition most commonly shows up towards the end of a pregnancy (which it did for Moore).
If preeclampsia is not diagnosed and treated in a timely fashion, it can lead to very serious complications for both mother and baby, including an increased risk of miscarriage, according to the Mayo Clinic. Luckily, Moore's doctor recognized the condition, and she was able to safely deliver Brooklyn a week later.
"I made fun of my swollen feet at @cynthiabailey10 party. Next day my tests came back for possible preeclampsia..." Moore captioned a photo of her swollen feet last week. "I gained 17 lbs in ONE week due to severe swelling and water retention, high blood pressure, and excess protein in urine. This is NOT normal! I took more tests. Baby is fine but if they come back higher #babydaly will have to come same day."
She added that she was staying positive, and she also shared a message of advice to her "pregnant sisters" — to make sure to keep up with your doctor visits and to keep your doctor in the loop on any changes.
Moore and Daly were able to conceive thanks to in vitro fertilization (IVF), a process she opened up about to People in an interview back in May. "You don't go under any anesthesia for the process and it doesn't hurt. You have to rest, which is always a great thing," she told People. "To be quite honest, the thing that hurt the most was them sticking me with the IV when they had to extract the eggs because my veins are so tiny. But that's the only thing that was uncomfortable. The rest of it wasn't painful."
Moore was lucky to have a smooth IVF process, and it's such a relief that her baby girl has arrived after what must have been a stressful end of her pregnancy. Congratulations to the new family of three!