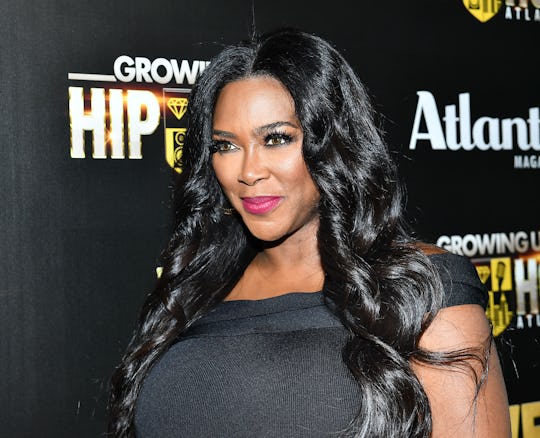 Paras Griffin/Getty Images Entertainment/Getty Images
Kenya Moore's Instagram Photo Of Her Swollen Feet Reveals Possible Preeclampsia
For the majority of women, pregnancy comes with its fair share of unpleasant side effects. There's nausea, vomiting, constipation, exhaustion, and breast tenderness for a fair amount of expecting moms in the first trimester. The closer she gets to her due date, the more things like heartburn, swelling, hip pain, and the inability to bend over takes a toll on her body. However, certain symptoms should be a cause for concern. And Kenya Moore's Instagram photo of her swollen feet reveals she could have preeclampsia.
As Us Weekly reported, the Real Housewives of Atlanta reality star took to Instagram on Saturday, Oct. 27 to share a worrisome pregnancy update with her followers. "I made fun of my swollen feet at @cynthiabailey10 party. Next day my tests came back for possible preeclampsia," the mom-to-be wrote, along with a photo of her severely puffy feet. "I gained 17 lbs in ONE week due to severe swelling and water retention, high blood pressure, and excess protein in urine. This is NOT normal!" She continued:
I took more tests. Baby is fine but if they come back higher #babydaly will have to come same day. Staying positive. To my pregnant sisters please go to your visits and tell the doctor of any drastic changes. Thank God I have great doctors.
The U.S. Centers for Disease Control and Prevention (CDC) states that preeclampsia affects 4 percent of pregnancies in the United States. (This is why your doctor checks your urine for protein at prenatal appointments, and also checks your blood pressure.) Although women with preeclampsia sometimes exhibit no noticeable symptoms, according to Preeclampsia.org, here are a few red flags to look out for: swelling, headaches, nausea or vomiting, sudden weight gain, and changes in vision.
As E! Online reported, Moore revealed she was expecting her first child with her husband, Marc Daly, back in April. The RHoA star announced their big news during the Real Housewives of Atlanta: Reunion Part 1. "We will definitely be welcoming a boy or girl in late this year," she told Andy Cohen at the time, while also declining to offer more information about a due date — or whether she's expecting a boy or a girl. "I don't want to talk about the details. I am still just very nervous about everything so I just want to get past a safe place."
She later wrote on Instagram, according to Bravo, "I was not planning on speaking about my pregnancy this early as due to my age I'm high risk. There is plenty to share and I'm sure you will see every minute of our joy next season with a front row seat." Still, Moore hasn't exactly been shy about her plans for starting a family with Daly. In Dec. 2017 — when she was photographed at a fertility clinic — she told E! News, "I absolutely want children. My husband wants children with me and we are working on it. "I'm hopeful that within the year, I'll have a little one running around."
Hopefully, baby Daly decides to stay put for as long as possible and Moore's numbers continue to stay out of the "deliver ASAP" range. In the meantime, I'm sending positive thoughts and vibes your way, mama. Because the risks associated with preeclampsia — for both mom and baby — are serious business.