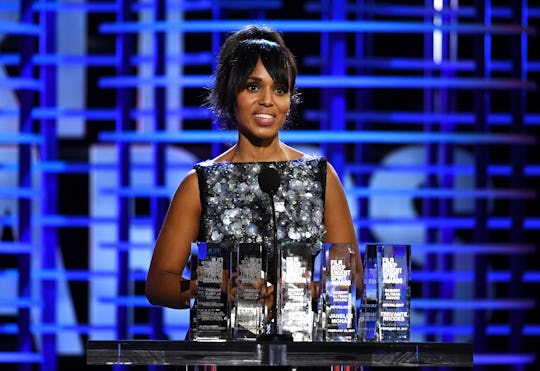 Kevork Djansezian/Getty Images Entertainment/Getty Images
Kerry Washington's Best Mom Instagrams Are So Cool
Kerry Washington has been killing it as Scandal's Olivia Pope since the show first aired in 2013. Pope is tough, sly, wise, and powerful. But isthat what Washington is like in real life? What kind of friend is she, for instance, or what kind of mom? As private as she tends to be, Kerry Washington's best mom Instagrams give us a few clues as to who she is IRL with her two kids. Spoiler alert; she's one happy camper.
Washington is the proud mom of three-year-old Isabelle Amarichi and new baby Caleb Kelechi, who was born in early October, with retired NFL corner back husband Nnamdi Asomugha. While Washington might not want to share images of her kids, she has happily shared with several news outlets precisely how "blessed" her family makes her feel. After little Caleb was born, Washington told The Los Angeles Times:
I will say I feel really, really blessed. I just feel really blessed that I'm kind of living extraordinary dreams come true in my work life and in my personal life.
Scrolling through Washington's Instagram feed, you won't see images of her children. But that certainly doesn't mean they aren't present in everything. As with so many parents, the choices Washington makes are tied inexorably to her children.
For instance, Washington was a speaker and an active participant at the Women's March in January. Because, as she said in an interview with The Advocate that same month, she wants to teach her children about tolerance and kindness.
She Fights For Women's Rights
We don't come out of the womb filled with prejudice, racism, and homophobia. Kids are taught to hate, so we have to protect our young people's minds from those evils.
She Is An Advocate For Survivors Of Domestic Abuse
Washington is doing an amazing job of leading her kids by example, and teaching them how to stand up for what's right by actually standing up for what's right herself. Washington is the spokesperson for the Purple Purse campaign, which raises money to help free domestic abuse survivors from often life-threatening situations.
She Values Reading
If Washington is celebrating World Book Day (this Sunday) with some lucky elementary school students, I like to think she's a bedtime story kind of mom, too. I feel like that might be a safe bet. Particularly when she shared this Instagram pic of herself with The Very Hungry Caterpillar and referred to it as a "family fave."
For the most part, Washington's social media game is locked on professional mode. And you've got to respect that about her. But this one Instagram meditation, I think, opens a secret window into the parenting value Washington holds dear.
She Still Has A Sense Of Wonder
So here is what I've learned scrolling through Washington's Instagram; she is working towards a brighter future. She advocates for equal rights on every level. She seems to be an ambitious, hard worker who craves privacy in a world that rarely affords celebrity such a luxury. But at the end of the day... she still holds on to her sense of wonder. And what a great attribute that truly is for a mom to hold on to.