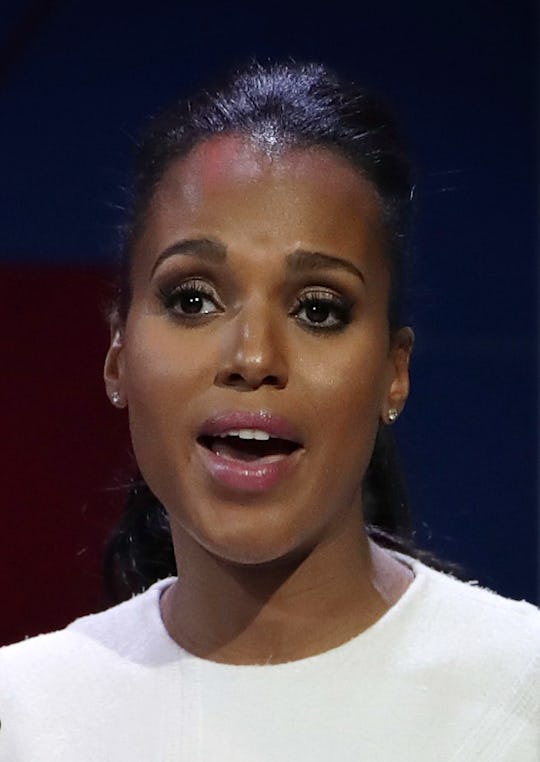 Alex Wong/Getty Images News/Getty Images
Kerry Washington's Purple Purse Campaign Advocates For Domestic Violence Victims
You've got to give Kerry Washington credit — she regularly makes it clear that she wants to use her "status" to create change. Washington has been using her name and her voice to empower women for years, and her device of choice is inspired. Kerry Washington's purple purse campaign is all about ending domestic violence and speaking out for victims who might feel they don't have a voice.
Washington is the ambassador for the Allstate Foundation's Purple Purse campaign. According to the foundation's website, the Purple Purse campaign has helped over 800,000 victims escape domestic abuse since 2005 through "financial education and empowerment." It's the longest-running national campaign against domestic violence and the concept behind it is simple: The foundation provides financial aid to survivors, empowering them to make a life of their own and "break the cycle." According to the website, financial abuse is the number one reason victims of domestic abuse don't "just leave." Allstate's Purple Purse Foundation has invested over 50 million dollars towards providing survivors with financial independence since 2005.
These days, Washington wants to help them invest even more. The Scandal actress recently told People,
For me, it's just such an ideal partnership, because selfishly I just participate and work in areas that are very important to me, meaning both fashion and supporting women's empowerment. To be an ambassador for the Allstate Foundation and for Purple Purse is an honor for me, because I love being able to be a part of real, long-term solutions for giving security, and wisdom, and knowledge and empowerment for domestic violence victims and survivors.
Washington has been the ambassador of the Purple Purse campaign for three years, and each year she has designed a unique limited-edition purse to spread the word. There are also Purple Purse charms available that feature the real-life story of a domestic abuse survivor who was able to attain financial self-sufficiency through the program. The charms can be hung on purses as a powerful message of support and strength for survivors.
Just this month, the foundation created this powerful video, "America's Largest Prison Break", to help donors understand exactly what their funds are helping survivors accomplish:
As Washington so eloquently put it in an interview with People,
Financial abuse is such an invisible weapon. It's not something we think of. We can see black eyes and we can see bruising and I think, we think a lot about the emotional abuse, and all of those things are valid, but to know that financial abuse is the number one reason why women stay and why they can't walk away – it matters so much to be able to do something about that because it unlocks the solutions in the other areas as well.
The Purple Purse initiative is about long-term goals. It's about giving survivors the tools to genuinely, truly create new lives for themselves. It's about creating more than a temporary safety net. Because all survivors deserve to be #FreeToWalk.
To donate or learn more about the campaign, visit purplepurse.com.