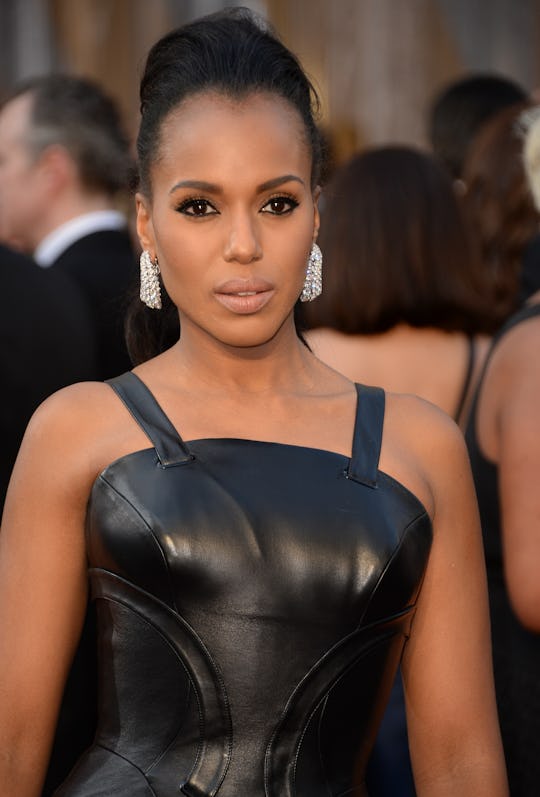 ANGELA WEISS/AFP/Getty Images
Kerry Washington's Quotes About Diversity On The Oscars Red Carpet Show She's Committed To The Cause
ABC red carpet host Robin Roberts didn't shy away from the topic of #OscarsSoWhite at Sunday's Academy Awards, quickly jumping into the topic with presenter Kerry Washington. And Kerry Washington's quotes about diversity at the Oscars showed that the actress is committed to contributing to the conversation about diversity in film.
Roberts started by saying that she admired the way Shonda Rhimes routinely casts women of color in important roles in her TV shows, and that film could stand to take a cue from the famous producer. On that note, Washington said that people had asked her why she was attending the event, when some people are boycotting the Oscars because of its dearth of diversity. She said that change doesn't come about that way.
"If you look at the history of movements, the history of change, a lot of voices are needed at the table," Washington said. "So I really respect and actually admire some of the people who are not here tonight. I really get it. But for me, I felt like ... my voice is best used at the table. As a new member of the Academy ... I really want to be part of the conversation to make sure that there's institutional change, so that we never have a year like this again. So we can be as inclusive as possible."
Washington noted that the need for diversity extends beyond race. "It's about women, it's about people of color, it's about age, it's about making sure that our films and the awards that we give for films represent humanity."
For the second year in a row, all the actors and actresses nominated for Oscars were white. Hopefully next year we can do better, and hopefully Washington's signature charm will help communicate the message.
I'm sold.