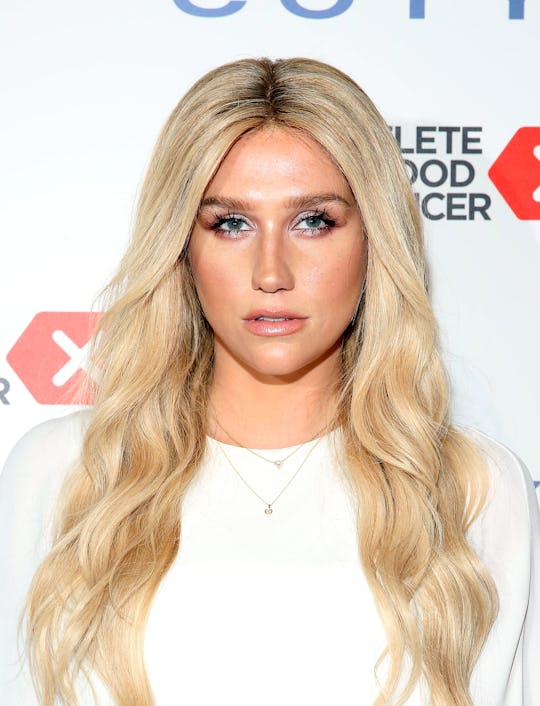 Robin Marchant/Getty Images Entertainment/Getty Images
Kesha Releases A Short Song & It Sends A Beautiful Message To Her Fans
Even if Kesha is a pop star, the kind of attention she's been getting lately is not attention anyone would want. She has been wrapped up in a long and painful court case against her former producer and collaborator, Dr. Luke (whose real name is Lukasz Gottwald), who she claims verbally and sexually abused her throughout their 10-year professional relationship. A judge denied Kesha's request for an injunction on her contract with Sony, which means she still must produce music under Gottwald's label. Without leaving her record deal at Sony, there would be no guarantee she would not have contact with her alleged abuser. After losing that case, fans, activists, and fellow celebrities showed their support for the singer. On Friday, Kesha released a short song for her fans and supporters as a way to thank them.
Despite Kesha's growing list of supporters, Gottwald's lawyer, Christine Lepera, released a statement on his behalf saying that Kesha's accusations of abuse were false:
As set forth in the complaint that we have filed on behalf of Dr. Luke, Kesha and her mother are engaged in a campaign of publishing outrageous and untrue statements about Dr. Luke to third parties, including scurrilous and false statements of purported physical and mental abuse of Kesha.
Gottwald also publicly denied the allegations on Twitter.
Kesha's lawyer, Mark Geragos, posted the video of her performing the short song for fans on Twitter. It seems so fitting that she used the very medium that is essentially entrapping her to convey her thanks. In the caption, Kesha and Geragos said the caption was dedicated "to everyone who has had her back." The video is a closeup of a soulful Kesha, singing, eyes-closed, accompanied only by an acoustic guitar. She sings sincerely, "Oh, I don't know what I would do without you / I don't know where I would be."
Ironically, if this were any more of a song it would be illegal because she is under contract with Sony still, as per the failed injunction. She's committed, legally, to write another six more albums for Sony. The record label said Friday that it is in no way obligated to release her from her contract, no matter how many #FreeKesha signs, posts, or articles there are.
On Wednesday, Kesha took to Facebook to respond, personally, to the events. She wrote, "All I ever wanted was to be able to make music without being afraid, scared, or abused. This case has never been about a renegotiation of my record contract — it was never about getting a bigger, or a better deal. This is about being free from my abuser." Despite the backlash she's received for her legal battle, she concludes her post optimistically.
But I just want to say that if you have been abused, please don't be afraid to speak out. There are places that will make you feel safe. There are people who will help you. I for one, will stand beside you and behind you. I know now how this all feels and will forever fight for you the way perfect strangers have been fighting for me.
Kesha is clearly grateful for all of the people that have rallied for her cause. Though her suit was unsuccessful, her fight will most likely continue, as will the fights of women and men everywhere who have not been able to get justice against their alleged abusers.