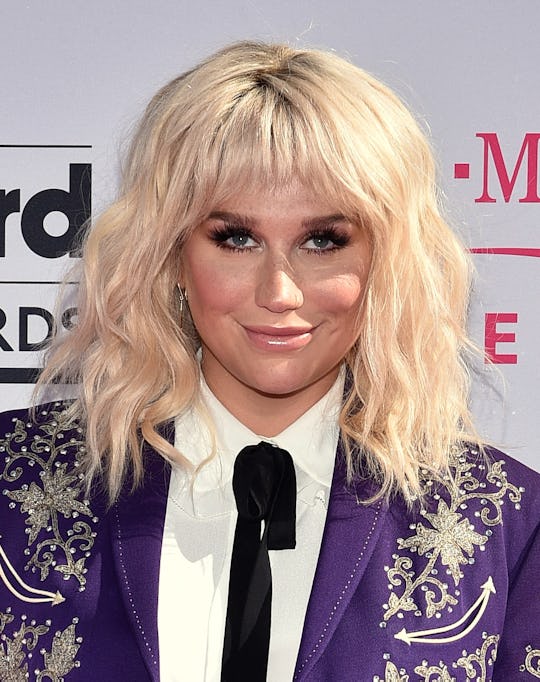 David Becker/Getty Images Entertainment/Getty Images
Kesha's Prince-Inspired Billboard Music Award Outfit Was The Perfect Style Tribute
On Sunday, pop singer Kesha arrived on the red carpet at the 2016 Billboard Music Awards to a round of applause and cheer. And not just because she's an amazing artist. Kesha's Prince-inspired Billboard Music Award outfit was a very clear tribute to the late singer. The ensemble outfit included a deep purple jacket with intricate gold embroidery, purple cropped pants, and a dazzling pair of gold loafer-inspired heels. At first glance, it looked at bit like a flamboyant mariachi band outfit — but the vibrant color was an unmistakable callback to Prince's signature purple outfits. Kesha's choice of a rather masculinely-styled suit paired with the heels also totally played into the way Prince often blurred gender lines with his distinctive and overtly sensual style.
The 57-year old singer passed away last month at his Paisley Park estate in Chanhassen, Minnesota. Since his death on Apr. 21 that felt all too soon, tributes to his life, career, and music have come pouring in from fans and fellow musicians and performers. Kesha's fashion tribute on the BBMA red carpet isn't the only celebration of Prince at Sunday's awards: Madonna will perform a highly anticipated official musical tribute to Prince as well.
Kesha confirmed her vintage outfit was a direct tribute to Prince and Bob Dylan on her Instagram feed before the show:
very lucky to be wearing a classic nudie suit on this carpet. this piece of vintage clothing is truly a piece of art ( like. museum piece ) and an homage to both Bob Dylan and Prince. thank u so so much to the nudie suit crew for sharing this art and letting it adorn my body tonight. I'm very appreciative and grateful
Even though Kesha didn't give an interview at the BBMAs on the red carpet, she still made quite the statement with her red carpet look. Her open suit jacket and cropped pants appeared to be made out of purple velvet and the gold embroidery really sparkled in the Vegas sunlight. Kesha's outfit also featured a simple white shirt paired with a silky black skinny tie. Again, while very much the mariachi vibe, Kesha totally made it work on the red carpet.
And those shoes! They looked pretty amazing: A totally grown up and glamorous pair of penny-loafer inspired chunky heels by Gucci, covered in gold. I mean, just look at them:
More importantly — where do I get a pair?
Kesha is slated to perform a cover of Bob Dylan's "It Ain't You Babe" at Sunday night's Billboard Music Awards.