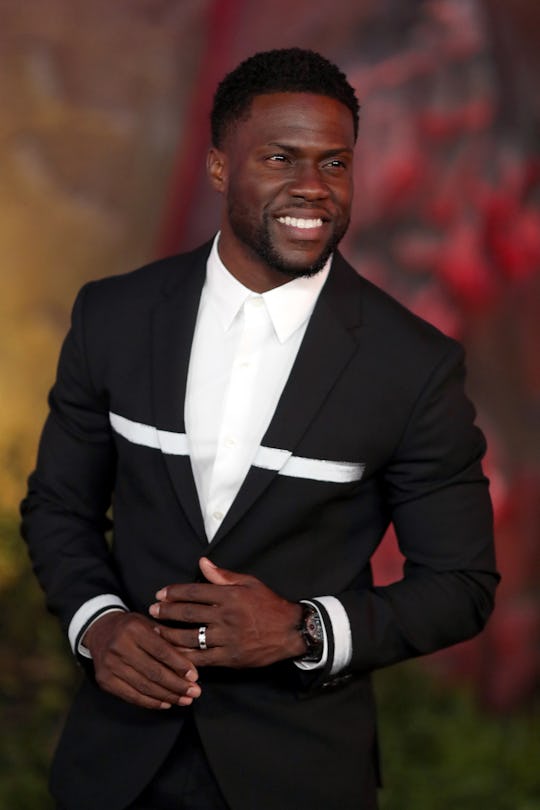 Christopher Polk/Getty Images Entertainment/Getty Images
Kevin Hart Had A "Mini Breakdown" Changing His Son's Diaper For The First Time
Kevin Hart has gone on record to say that he does not change diapers. And when I say "gone on record," I mean I'm pretty sure he was kidding around. Because the father of three is a comedian, after all, and a well-seasoned dad who has spent his share of time in the trenches. And yet, when Hart documented his first diaper change with his new baby, as Us Weekly reported, I might have wondered... was he kidding? Because the dude seemed to be having one hell of a time being left alone with his baby.
The Jumanji: Welcome To The Jungle actor shared a video on Snapchat on Wednesday when his wife, Eniko Parrish left their 5-week-old son Kenzo with him so she could get some shopping done. He admitted in the video that he was pretty terrified of being alone with the baby. In the video Hart could be heard saying:
I'm praying to God this little man stays asleep until she gets back.
Unfortunately for Hart, but fortunately for all of his followers on Snapchat, his prayers did not come true. With his wife away running errands and Hart left in charge of the baby, his two older children, and the family dogs, it seems mayhem ensued. And the comedian, who is also the father of 12-year-old daughter Heaven and 10-year-old son Hendrix — who he shares with ex-wife Torrei Hart — was the only adult available to deal with all of the things.
For one, baby Kenzo woke up with a wet diaper. And despite Hart's comments to Extra's Mario Lopez that he would not be changing diapers because that was "mommy time," he seemed to do just fine. Although to be fair, he did seem awfully pleased with himself, changing the soiled diaper and then proudly exclaiming "Daddy did that!" when the job was done, but sometimes we just have to toot our own horns as parents. Even if the thing you're bragging about is the most basic part of parenting and is simply something that has to get done no matter who you are... sure, toot that horn, man.
The 38-year-old actor and comedian has had a real off-again, off-again relationship with diaper changing, if his comments to the press are to be believed. When he was promoting his new movie Jumanji: Welcome To The Jungle, he told People he would not be signing up for diaper duty:
Oh, no. Not on my new baby. Not on Kenzo — on my older babies I did and I had tough times doing it. With a newborn it's very tough, they're fragile, they need a mother's touch; that's not a father's time, so I said, "Don't tag me in 'til me and the baby are on terms of 'Stop!' and he can listen to that; I don't want to deal with that new, new."
Hart later admitted he was kidding around about refusing to do diaper duty for his child on Twitter.
And now, Hart has offered video evidence that he does, indeed, change diapers. Not to mention trying his hand at holding down the fort while his wife is out. He shared a video on Instagram on Wednesday night, further documenting his madcap adventures while doing all that adult-ing on his own, saying:
The wife left me home with the babies and dogs for a couple [of] hours by myself. I had it under control in the beginning, I really did, but then the baby started crying, so I went up and I grabbed the baby. I fed the baby, changed the baby's diaper … then out of nowhere, the dogs started barking. Came to find my dogs got outside. Not really sure how — my big Doberman opened the g–damned door.
From there, it seems things got even worse. Hart tripped over his Diaper Genie, the baby started crying, and he had to wrangle the dogs to come inside. By the time it was all over, he admitted, according to People, that he had a "mini-breakdown."
So... he basically experienced a short afternoon of what every other parent experiences all day, every day. My heart isn't exactly bleeding for Hart, but the whole experience was good for a laugh.
Check out Romper's new video series, Romper's Doula Diaries:
Watch full episodes of Romper's Doula Diaries on Facebook Watch.