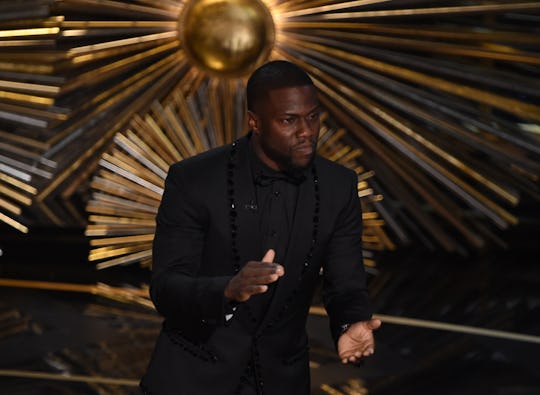 MARK RALSTON/AFP/Getty Images
Kevin Hart Congratulates Black Actors Not Nominated At The 2016 Oscars
One of the most visible people at the 2016 Oscars was Kevin Hart — mostly because Chris Rock kept calling him out as the dude who takes all the roles that would otherwise go to him. It's true that he's seemingly one of the few black actors privileged enough to find consistent work in a whitewashed Hollywood, so when it was time to present, Kevin Hart congratulated black actors who were not nominated for their work in the previous year.
After Rock jokingly introduced Hart as the host of the 2017 Oscars, Hart took his time at the mic to make a statement, before introducing a performance by The Weeknd.
"I feed off of positive energy, and I feel like positive overall beats negative. With that being said, I want to take a moment to applaud all of my actors and actresses of color that didn't get nominated tonight," Hart said. "I want them to understand that tonight should not determine the hard work and effort that you put into your craft."
"At the end of the day, we love what we do and we're breaking major ground doing it. These problems of today will eventually become problems of the old," he went on. "Let's not let this negative issue of diversity beat us. Let's continue to do what we do best, and work hard."
He then went on to say that he was sure that, as a rare person of color at tonight's awards, he would have scored a front row seat. Alas.
Hart's take on the issue is an inspiring one — he recognizes that the lack of diversity is a problem, but he's not going to let it stop him from working tirelessly and making us laugh.