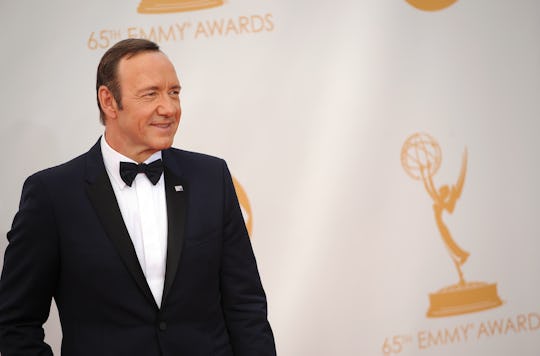 ROBYN BECK/AFP/Getty Images
Kevin Spacey Was A Total Stage Mom At The Emmys & Every Parent Has Been There
Who doesn't document everything on their smartphone these days? As it turns out, that would be no one — including celebrities attending award shows. When Julia Louis-Dreyfus went to accept her Emmy Award for Outstanding Actress In A Comedy Series, one actor apparently wanted to capture her reaction forever. People are dying over the fact that Kevin Spacey recorded Julia Louis-Dreyfus on his phone at the Emmys, being both an excellent stage mom and smartphone addict at the same time.
Spacey was definitely a total stage mom and was clearly so proud of Louis-Dreyfus as she stood up after hearing her name called, with a look of complete shock on her face. Spacey's immense pride for his friend (that smile on his face could kill a man) led him to reach for his phone and record the whole moment. Unfortunately for Spacey, someone forgot to tell him that the televised broadcast was capturing her reaction the whole time. But luckily for viewers, the TV cameras were there to capture him capturing Louis-Dreyfus. It could not be any more hilarious. People took to Twitter to share their reactions to Spacey recording the Emmy winner, basically turning him into a meme for the remainder of the night.
Millennials aren't the only ones attached to their smartphones. Yes, even big time celebs like Spacey are quick to record everything. The reactions to him doing that are so hilarious.
Spacey and Louis-Dreyfus go way back. In 2014, the two appeared on the cover of Entertainment Weekly, swapping roles and costumes for a photoshoot. Louis-Dreyfus dressed up as Spacey's House of Cards character, Frank Underwood, while Spacey dressed up as Louis-Dreyfus' character, Selina Meyer. The fake presidential rivalry between their characters continued in 2015, when Louis-Dreyfus said in an interview that her presidential character in Veep would tell Spacey's House of Cards character to "lighten up." Fair enough. One look at Spacey's face tonight recording Louis-Dreyfus showed that he could not be any "lighter."
But there is a huge reason why Spacey was capturing Louis-Dreyfus and her reaction to winning the award. During the Emmy Broadcast, Louis-Dreyfus made history. Yeah, you heard me right. Louis-Dreyfus is now a history making Emmy award winner. During tonight's broadcast, according to Pop Sugar, Louis-Dreyfus claimed the title for most wins in the Best Actress category, most consecutive wins, and most wins for a single role. This brings her to 10 total Emmy awards.
That is a lot of awards for a lot of talent and it is well earned. Louis-Dreyfus has been entertaining audiences for years due to her outstanding and hilarious work on shows like Seinfeld, The New Adventures of Old Christine, and Veep. Needless to say, any good friend would want to be supportive of their friend for breaking records — hence, Spacey's smartphone.
But really, Louis-Dreyfus' win is such an amazing accomplishment. Yet in a 2016 interview with The New York Times, Louis-Dreyfus revealed that she does not see herself as a "pioneer" for women in TV:
Opportunity for women in television has increased. It's because the landscape has widened. Most women got on the playing field. But opportunity for women in film has not increased. I just think it's that simple. By the way, I'm certain that there's more in television that can be done. And I'm trying to do it. But I've certainly seen it change in my lifetime.
Whether she believes it or not, Louis-Dreyfus is definitely a pioneer for women in comedy and on television. Spacey's reaction to her setting multiple records for her wins shows that. Not to mention, it also shows a more jovial side to the man who plays one (deadly) serious character on House of Cards.
Spacey's smartphone recording is the most anti-Frank Underwood thing he could have ever done and dear lord, it was amazing.
Watch Romper's new video series, Romper's Doula Diaries:
Check out the entire TK series and other videos on Facebook and the Bustle app across Apple TV, Roku, and Amazon Fire TV.