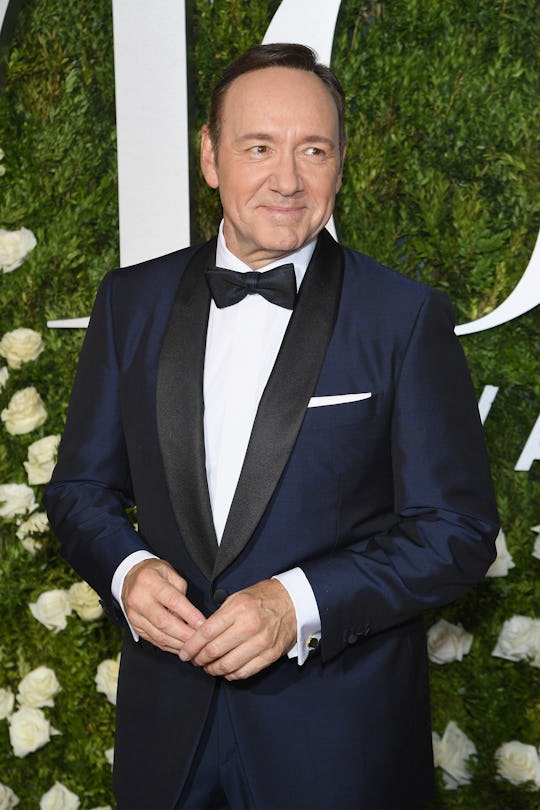 Dimitrios Kambouris/Getty Images Entertainment/Getty Images
Kevin Spacey's Tony Opener Was Full Of Surprise Guest Stars
Did you guys know that Kevin Spacey could sing? Because I'll be honest, I did not. Kevin Spacey's 2017 Tony Awards opener was absolutely everything, and included multiple dream sequences, a fake arm cast, costume changes, Steven Colbert, Whoopi Goldberg, and lots of Broadway in-jokes that further proved it was going to be a spectacular night. Perhaps, it's because I've been so used to seeing Spacey as the consistently terrifying Frank Underwood lately, I was not expecting this much silly fun in the opening sequence of the Tonys, but I was so here for it.
He sang his heart out in the opening song, the running joke being that he was a little insecure about hosting this year, singing at one point that neither Neil Patrick Harris nor Hugh Jackman was there. Another guest who was there, however, was Billy Crystal, who appeared on screen to offer Spacey a little advice. His parting wisdom: "If all else fails, put on a dress." At this point Spacey donned an over-the-top costume to "become Norma Desmond" in a nod to Sunset Boulevard. This was far from the only Broadway nod in the opening sequence, which included shows nominated this year as well as classics, like a kick-line anchored by glittering rockettes, and call-outs to former awards ceremonies.
My personal favorite classic Broadway moment from this opener was Spacey's tap-dancing. What other dormant talents has this would-be song-and-dance man been hiding away from the public all of these years? If there's one thing I need more of in my life, it is a singing and dancing Kevin Spacey who seems pretty aware that he's not exactly the most obvious choice of hosts for the Tony Awards, but that just made his opening number all the more impressive.
He did seem to know his stuff enough that plenty of the nominated shows got a little wink and a nod. He opened with the cast from Dear Evan Hansen, a show about teen suicide that is widely anticipated to sweep this year's awards. The first set was borrowed from Come From Away, and the stick on beard and accordion was a nod to Natasha, Pierre & The Great Comet of 1812.
So thanks to some sage advice from "The great and powerful Billy the wizard of Crystal," Spacey basically blew everybody away with his hosting skills. Perhaps it's a bit early to call it, but I think it really will "be as if they never called those other guys," as Spacey sings hopefully near the end of his number. All I really know is that if I don't see Spacey in a musical really soon, I will be sorely disappointed.