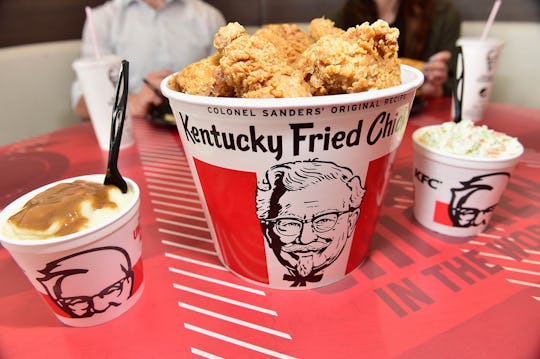 Moses Robinson/Getty Images Entertainment/Getty Images
KFC Will Pay You A Boat Load Of Cash If You Name Your Baby After The Colonel
Are you expecting a baby over the next few weeks? Are you still unsure what to name that baby? Are you worried about how you will ever afford to send that unborn child of yours to college a few decades down the line? And again I ask, are you really not all that picky about what your kid's name will be? If so I have some weird and excellent news for you. KFC wants to pay you to name your baby after Colonel Sanders. Which tells us that there is simply no limit to the imagination of clever fast food chain marketers in this country.
KFC announced via social media on Wednesday that the company would pay $11,000 to have a baby named after Colonel Sanders. Now don't panic, his actual first name wasn't Colonel. Nor was it a military distinction, apparently. It was an honorary title bestowed on him by the governor of Kentucky in 1935. I guess his chicken was just that good. Colonel Sanders, the man who brought us Kentucky Fried Chicken in 1952, actually went by the first name Harland. A name you don't hear all that much, when you think about it, but I have a feeling it's about to get a little comeback.
Think you would be willing to name your baby Harland for the chance to get $11,000? Here's how it works; KFC will pay $11,000 to the first person who gives birth to a baby on September 9, the day the original recipe Harland was born, with the intention of that money going towards the new Harland's future education. Why the oddly specific amount of $11,000? In honor of the Colonel's secret recipe of "11 herbs and spices," according to TIME. The money will be awarded to the first baby born on September 9 with the name Harland, although I think KFC missed a real opportunity here. They could have made it a look-alike contest with the original recipe Harland.
Obviously the internet had to weigh in on the idea of a baby being named after Colonel Sanders for a cash prize. There are just so many options... like what if a person is already named Harland? Can they get a retroactive few thousand or something? And what if you decide to change the name after the contest? Or my personal favorite; if you add in a little "extra crispy" can you get some more money?
While it's sad to say that $11,000 will not even come close to covering the cost of your potential baby Harland's education, a KFC spokesperson told The Atlantic that offering money towards a better education is a great tribute to Colonel Sanders himself:
Ever the entrepreneur, Colonel Sanders bounced back from a series of failed jobs and business ventures to found Kentucky Fried Chicken in his 60s. We couldn't think of a better way to honor him than to help support Baby Harland's future successes with a college donation.
Obviously there are some rules that need to be followed if you want to name your baby Harland and want that $11,000. The baby has to be born in the United States on September 9, and parents need to enter the contest via the baby Harland page here by October 9. The winner will be announced by the middle of October. And then we can tally up all of those extra Harlands who will be wandering around without an extra $11,000 in their pockets. I wonder if you can just throw Harland in as a middle name or something?
Not that it's a bad name. It simply feels like a big commitment for a little pay-off.
Let the games begin.