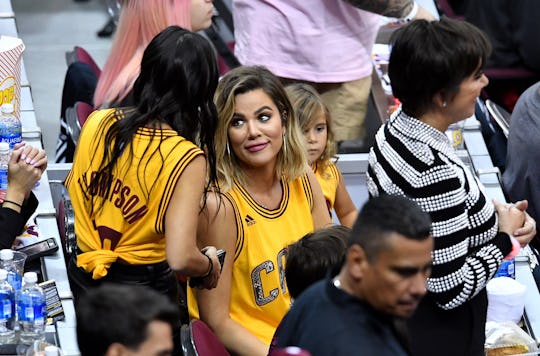 Jason Miller/Getty Images Sport/Getty Images
These Khloé Kardashian Baby Memes Are Too Much RN
In the wake of the news that Khloé Kardashian has finally given birth to her baby girl, the internet reacted accordingly — by heading to Twitter. It's no secret that Kardashian has been on everyone's mind the last few days as allegations that her boyfriend and the father of her baby, Tristan Thompson, was caught cheating, but now — it's all about the Khloe Kardashian baby memes. You guys, the internet is always prepared.
And how easy is it to be prepared when you've literally been hearing about this baby for months and months? It was way back in September when news outlets began reporting that Kardashian was pregnant, but it wasn't until December that the middle of the Kardashian-Jenner sisters actually confirmed her pregnancy. In an Instagram post, she revealed that she was expecting a baby with Thompson and fans, naturally, went totally nuts. In fact, it was a big time for all Kardashian-Jenner fans. According to Us Weekly, when fans found out Khloé Kardashian was pregnant, there were also rumors that Kylie Jenner was pregnant (she gave birth back in February) and everyone was waiting for Kim and Kanye West to give birth to their third child via surrogacy.
Phew. Kris Jenner, ain't you tired, girl?
But now that Kardashian has officially given birth, the internet is really in a frenzy. People reported that Khloé gave birth the morning of April 12 to a baby girl. But of course, her birth announcement is darkened by the allegations that Thompson was cheating on Khloé during her pregnancy and had recently been caught in photos and surveillance tapes, Daily Mail reported. Romper has reached out to Thompson's rep, but has not heard back at the time of publication.
No matter what happened though, I can only hope that Khloé is getting to actually enjoy her sweet daughter and that she's receiving all the support she could possibly want or need. It certainly seems the internet has her back with these Khloé Kardashian baby memes.
When You Feel Like You Actually Know Khloé
I mean, the Kardashian-Jenner family is their own giant support system, but y'all — when you feel like you're an honorary Kardashian sister and something happens to one of them, of course you're going to feel it in your heart. Khloé, there are so many people so excited to see you become a mommy. They're rooting for you.
And They're Also Rooting For A Certain Last Name
When the cheating allegations came to light, of course everyone had an opinion on what Khloé should do. Some said she should leave immediately, some said she shouldn't allow Thompson to be in the delivery room, and some believe the baby should be named Kardashian. Is it wrong that I'm inclined to agree?
Some Wonder How Khloé's Going To React To Tristan Being Involved
OK, so regardless of what happened, Thompson is still the father of Kardashian's baby, but let's be honest — this meme is hilarious. Nobody can deny that Khloé is feeling some things right now as she gives birth, but she's totally within her rights to feel angry, hurt, betrayed, or even confused by her boyfriend. In what should be the best moment of her life, it's shadowed by these allegations and I feel for Khloé immensely. So if this is how she looks when Thompson holds her baby, I want her to know that I'd make the same face, too.
Check out Romper's new video series, Bearing The Motherload, where disagreeing parents from different sides of an issue sit down with a mediator and talk about how to support (and not judge) each other's parenting perspectives. New episodes air Mondays on Facebook.