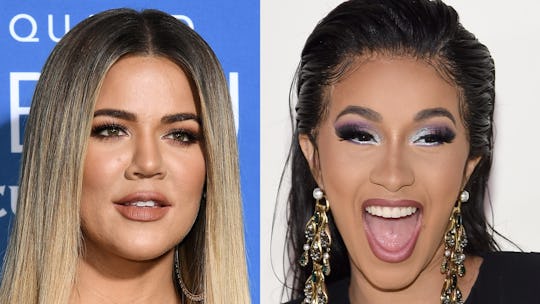 Dia Dipasupil/Getty Images Entertainment/Getty Images, Jamie McCarthy/Getty Images Entertainment/Getty Images
Khloé Kardashian & Baby True Share Their Hilarious "Cardi B Impressions"
The Kardashian family and Cardi B have made it clear that they're big fans of each other. And now that so many of them are mamas to new baby girls, they all have even more in common. Case in point? Kris Jenner, Khloé Kardashian, and baby True's "Cardi B impressions," which Khloé shared to Instagram on Thursday.
In the Instagram photo, Khloé, Kris, and True, who is almost 5 months old, are all cuddled up together in a pool. All three of them have their tongues sticking out playfully — a classic Cardi B move. "Trying to do our best Cardi B 😝," Khloé captioned the adorable shot. The jury's out on how Mama Khloé convinced her daughter to stick out her tongue and look at the camera at the same time, but Khloé, please share your tips with us.
Cardi is known for sticking out her tongue — which she says she does due to its long length. "I have a very long tongue," Cardi tweeted earlier this year. "I feel like I can't keep it inside my mouth for too long, like a f—king lizard, but I love my tongue. It works wonders. Wonders..."
Last month, Cardi B hung out with Kris Jenner and Kim Kardashian, and she commemorated their time together on Instagram, The Cut reported. "I'm officially apart of the rich people club!! I'm not poor anymore mwaaaaahahahaha!!" Cardi captioned a selfie of the trio. "P.s I'm selling one of @krisjenner napkins on eBay!!" she joked. Kris Jenner posted the same photo on Instagram, captioning it, "Late night shenanigans at home with @iamcardib @kimkardashian #love #friendship #family."
According to People, Khloé's boyfriend Tristan Thompson is on the beach vacation with Khloé, Kris, and True. On Wednesday, she posted a video of her family of three, which Thompson was giving True kisses. "Who do you think you are right now with your shades on and your turban and your earrings, girl? Who do you think you are, Mama?" Khloé said to her daughter in the video, People reported. In other photos from Khloé's story, True sported adorable sunglasses in addition to her black turban.
And in another video, Khloé took inspiration from her pals Chrissy Teigen and John Legend. On their recent trip to Bali, Legend documented Teigen's daily headgear fashion with a song called "headband of the day" that he sang almost daily on his wife's Instagram stories. "In honor of John and Chrissy, we got turban of the day, turban of the day, turban of the day," Khloé sang, in reference to True's super cute turban, BET reported.
Khloé has Instagrammed several other photos from the trip. In another pool shot, she is beaming and holding baby True. "💕 Me and my girl!! 💕," Khloé wrote alongside the picture.
She also shared a photo of herself in a white bikini with an unzipped jacket on the beach, which she captioned, "💚 Forever Thankful For It ALL 💚."
In the comments section, a few haters accused Khloé of photoshopping the bikini shot. "Forever photoshopped," one troll wrote. "Photoshop queen," someone else added. Thursday night, Khloé posted an Instagram story in response to the critics. "People find anything to comment on. Especially just negative people," she said, while panning her camera across the water. "And a few people said I did horrible Photoshop because the palm trees are slanted. Well honey, I don't photoshop palm trees."
It's clear that Khloé Kardashian is loving life as a mom — and she's not going to let the haters bring her down in any way.