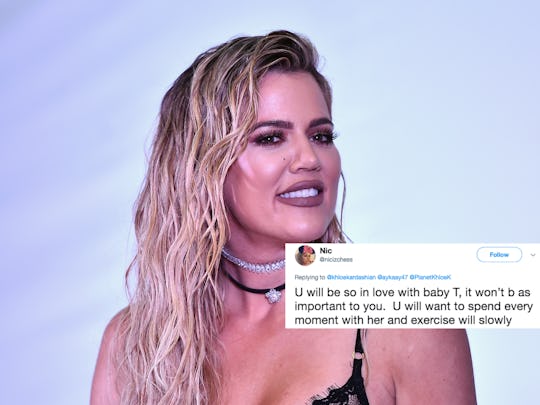 Alberto E. Rodriguez/Getty Images Entertainment/Getty Images
Khloe Kardahian Wants To Work Out After Giving Birth, So Everyone Lose Their Minds Now
Khloé Kardashian is rounding the home stretch in her pregnancy. She's weeks away from becoming a first time mom, and anyone who has spent three seconds trolling her social media accounts knows this girl is beyond excited to welcome her little girl. She can barely keep her hands off her baby bump, plus she and her Cleveland Cavalier boyfriend Tristan Thompson seem physically incapable of wiping the smiles off their faces. And yet. When Khloé Kardashian tweeted she "can't wait" to work out after giving birth, the internet immediately started dragging her. I guess because her interest in fitness somehow negates her love for her child, maybe? Is that how that works?
Fans all remember the Revenge Body host's designer's fitness journey. For years, Khloé was publicly shamed for being the "heaviest" of the Kardashian/Jenner sisters, and she's been typically open about how difficult that was for her. After going through a painful divorce from former NBA star Lamar Odom in 2012, she was looking for an outlet. And fitness turned out to be that outlet, as she explained to Women's Health magazine in 2015; "I was having a hard time with [husband at-the-time, NBA star] Lamar [Odom]. It was toward the end of our union, and there was so much drama. I needed a release. At first it was so hard. It was baby steps, but I started feeling so much better."
Khloé spent three years getting healthier... and happier. So it makes sense that she attributes at least a portion of her personal joy to her physical fitness, which she tweeted about on Friday.
In the six years since Khloé started to focus more on her own fitness, both physical and emotional, her life has clearly improved. She met Thompson and relocated to Cleveland and plans to give birth there, as she announced to her family during a recent episode of Keeping Up With The Kardashians. It seems as though things are all coming up roses for Khloé these days. Unless, of course, you factor in the mom-shamers on the internet who seem ready to judge her for anything that might give them the impression she's making a non-mom-like decision.
Some were a little more subtle with their dragging.
Ever since Khloé went public with her pregnancy in December after months of speculation, her fans have wanted to weigh in on her choices. Mostly people have been supportive, but there seems to be something about her devotion to fitness that gets people heated. In December, Khloé threatened to "stop sharing sh**" if people continued to lecture her on her exercise regimen after she and sister Kourtney shared workout videos on Snapchat.
While there might be those on the internet who only want to point out the negative, Team KoKo is always ready to defend their idol.
So here's the distinction that might be important to make, folks; when Khloé gets excited about her fitness regimen, she's not trying to attack any mom out there who doesn't want to work out immediately after the baby. She's not trying to prove a point, or pick a side, or anything like that. She appears to just genuinely be excited about exercise. It doesn't mean she loves her baby any less that anyone else out there because she maintains a modicum of self-interest.
In 2018, it turns out moms are allowed to actually take care of themselves and not subscribe to that sexist old trope that we're all meant to be exhausted martyrs who only exist to give joy to our children. We still get to be ourselves now, while also loving our babies.
So, for the millionth time, let's stop the judging, shall we?