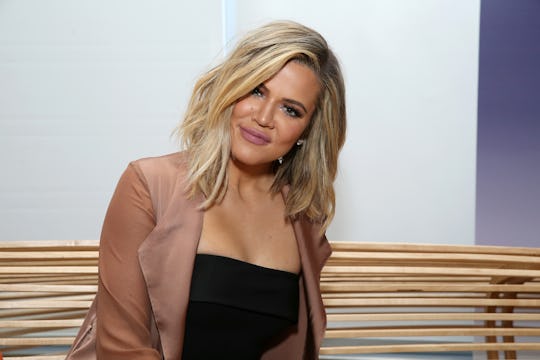 Cindy Ord/Getty Images Entertainment/Getty Images
Everything We Know About The Tristan Thompson Cheating Allegations So Far
Khloé Kardashian is currently going through a firestorm of controversy after a leaked video purports to show boyfriend and father of her unborn child, Tristan Thompson, cheating on her. Khloé delivered a baby girl with Tristan by her side in Cleveland, Ohio, earlier this morning (April 12), a location chosen due to its proximity to the Cleveland Cavaliers, the team for which Tristan plays. Needless to say, it's been a whirlwind of devastation and stress, the kind that nobody should have to deal with while dealing with their first days as a new mom. A lot has happened in the last 48 hours, and all of the Khloé Kardashian alleged cheating rumor updates have fans feeling devastated for her.
As a debriefer: Tristan Thompson was allegedly caught cheating on Khloé for the second time in her pregnancy, both with video footage that claims to show Thompson as proof. However, this round of alleged infidelity seems to be striking a louder chord because of the timing: she was about to give birth to his child, after all. In the time since the news broke, it's been reported that Khloé has gone "ballistic" on him, according to Page Six, her BFFs have been speaking out in support of her, and her family is flying in to Cleveland to be by her side. There's a lot happening in the Kardashian baby world right now, so here's a breakdown of what's gone down so far.
1. Videos Allegedly Show Tristan Cheating On Khloé
TMZ released a video of a surveillance camera that claimed to be showing Tristan Thompson "brazenly cheating on Khloé Kardashian" back in October of last year, when she was just a few months pregnant. Now, The Daily Mail has also released footage that's allegedly of Tristan kissing another woman in New York, as well as going into and leaving a hotel with her.
2. Khloé Just Gave Birth To Her Daughter On Thursday
The only Kardashian woman to not deliver in Cedars-Sinai in Los Angeles, Khloé told Jimmy Kimmel in January of this year that she would be delivering the baby in Cleveland so that Tristan could be in the room while she gave birth. Despite all the rumors, TMZ reported that she did have the baby there this morning, and that Tristan was indeed by her side.
3. Khloé Reportedly "Went Ballistic" When She Found Out
Page Six reported that a source close to Khloé said she was "hurt," "humiliated," and "went absolutely ballistic at him" when she heard the rumors. Though any time a quote is attributed to someone who chooses to remain anonymous it should be taken with a grain of salt, this reaction is, well, plausible given the current circumstances. The source reportedly shared:
She was devastated when she saw the pictures of Tristan with that girl, she went absolutely ballistic at him. She is not only hurt, she is humiliated and worried for their child. How could he do this, and so publicly, when their baby daughter could arrive within a week?
4. Khloé's BFF Came To Her Defense
On Wednesday, Khloé's friend Khadijah Haqq McCray (who you may know as being the sister of Malika Haqq, Khloé's other BFF who appears on Keeping Up With the Kardashians often) came to Khloé's defense by posting a not-so-subtle Instagram quote presumably aimed toward Tristan. "The best thing a father can do for his children is to love their mother," it said alongside a "punch" emoji.
5. Her Mom And Sisters Went To Be By Her Side
Kris Jenner and siblings Kim Kardashian West and Kourtney Kardashian all traveled to be with their sister as she gave birth, People reported. Kim and Kourtney left their vacation in Turks & Caicos, and Kris flew out from L.A.
Though it's presumable that her family was going to fly out to see the new baby when she is born regardless, given the context it seems likely that they are also stepping in as a support system, which is an amazing thing.
6. She Reportedly Just Wants To Go Home
Understandably, an "insider" said Khloé just wants to be back in L.A. But at that point, it was too late in her pregnancy to fly, develop a new birth plan and move her doctor back to California. Now that the baby is here, fans will have to wait and see what Khloé decides to do. An insider told Us Weekly:
Khloé shipped everything to Cleveland. She was fully moved in there. She was planning on raising the baby there full-time and making that her and her daughter's home. Now she just wants to get the hell out of Cleveland, but she can't fly.
7. Tristan Was Booed At His Basketball Game
On April 11, as Tristan was boo'ed by fans as he stepped out on the court for a game with the Cleveland Cavaliers, according to The Cut. Some fans even held up signage in support of Khloé.
8. Tristan's Ex, Who He Also Allegedly Cheated On While Pregnant, Told Fans To Stop Attributing The Situation To Karma
Jordan Craig, Tristan's ex whom he allegedly left while she was pregnant to start dating Khloé (which he has not confirmed nor denied) took to Instagram to share her thoughts on the whole ordeal. Page Six reported that she took to Instagram to share her sentiments about the ordeal.
If you respect yourself and you respect others, you would never make light of the misfortune of anyone, nor would you feel indemnified when it comes at the expense of others... Wishing peace for everyone.
9. Tristan Is Reportedly "Groveling"
In an effort to potentially win back Khloé's good graces and forgiveness (good luck with that) Tristan is reportedly explaining away his actions and begging for her forgiveness. A source told InTouch that he has said the following:
[Tristan]'s been in Khloé's ears apologizing, telling her that these videos aren't what they look like. He's telling her that the girl he was with at the hotel is [a friend of a friend] and that the video of him kissing that chick last year was a stupid bet he made with one of his teammates.
Though the likelihood of him earning that sought-after pardon is improbable at this point, all that's left to do is hope for the best for Khloé's delivery, and trust that she and her family will be able to navigate the situation now that she's a new mom.