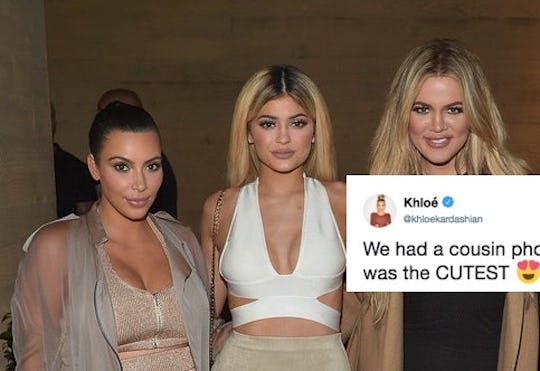 Charley Gallay/Getty Images Entertainment/Getty Images
Don't Panic, But Khloé Kardashian Confirmed True, Stormi & Chicago Had A "Cousin Photo Shoot"
Khloé Kardashian has finally and officially confirmed what diehard Keeping Up With The Kardashians fans have long been waiting for: a "cousin photo shoot" between True, Stormi, and Chicago has happened. That's right, the next generation of Kardashian women have all posed together for what could only be one of the most epic pics of all time that's sure to be absolutely artistic and gorgeous. Though the photo has not been released yet, Khloé shared in a tweet that her 2-month-old daughter True sat (well, maybe not actually sat up) for an official baby cousins photo op with Stormi, Kylie Jenner's little gal, and Chicago, Kim Kardashian West's third baby.
Responding to a fan's question about this long-awaited photo shoot on Monday, July 1, Khloé wrote in a tweet, "We had a cousin photo shoot TODAY!!!! It was the CUTEST." Of course it will be! How could it not, right?
You can just tell how excited Khloé — who welcomed baby True in April in Cleveland, with NBA player boyfriend Tristan Thompson by her her side, along with sisters Kourtney and Kim and mama Kris Jenner, as TMZ reported — is to show off the end result whenever they decide to do so, just like every other mom on Earth. Indeed, every family can relate to the excitement of trying to immortalize the adorable moment in which your kid is teeny tiny alongside their cousins or siblings. It's the shot that will go out to family from all over — on Christmas cards, to grandparents' houses, to the fridge, and beyond.
Of course, that "perfect" moment in which everyone is smiling pretty and looking right at the camera is what every parent wants. But the process of getting it is another matter completely. Sure, the Kardashians may have access to all the professional photographers in the world, but they aren't immune to a few roadblocks when it comes to trying to capture that special second in real life. Although what happened behind the scenes has yet to be revealed, it's fair to assume that there was at least one crying, fussy, or hungry baby in the room on the day this photo shoot happened... That's just a fact of life.
Through whatever blood, sweet, and tears that may or may not have gone into this tri-baby photo shoot, it's already guaranteed to be iconic. I mean, look to all of the already gorgeous, adorable, and frame-worthy photos they've shared since their babies were born? Like this one below of baby True from last month.
Or this one of a grinning and beyond adorable Chicago West, which Kim shared earlier this week.
Or this gorgeous shot of little Stormi Webster, shared by her dad, Travis Scott in March.
But clearly, the idea of a group shot of the newest baby-girl cousins has been in the works for some time. In fact, Kim shared the idea with Entertainment Tonight last month. "The three little girls are gonna grow up together," she told Entertainment Tonight, adding:
Chi and Stormi are just two weeks apart and then True is just a few months behind so that's really exciting...Me and Kylie and Khloe are planning one of those kids' photo shoots, just like a silly shot that we can have all the girls, 'cause Stormi and Chicago have so many pictures together. So, we can't wait for True to join the crew.
And hopefully Kim took the reigns on organizing the shoot; as one of the senior mamas in the crew, she knows a thing or two about just how tough it is to catch that perfect shot where everyone's looking right at the camera and not crawling out of the frame. And really, Kim does have plenty of experience in this department already. For example, in the caption of a family Easter photo earlier this year, she wrote:
I don't think you really understand how hard it is to take a good family pic. This was all we got before all three kids started crying. I think I cried too.
I feel you, Kim. I've tried everything from photographers holding puppets to using the family dog as a prop to get just that perfect frame. Parenting is oftentimes about going with the flow and learning to roll with the punches, right? And family photos seem to be the perfect test of that.
The upcoming Kardashian baby photo shoot is sure to be both beautiful and memorable. And hopefully, some behind-the-scenes moments of how everyone fared that day will surface in due time as well.