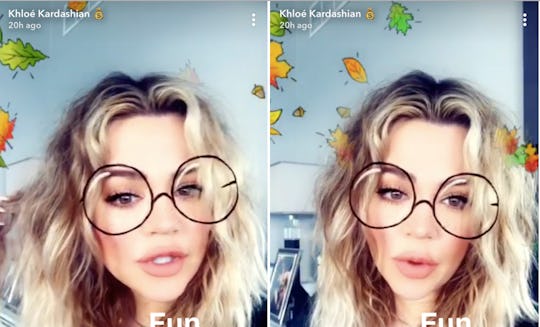 Khloé Kardashian/ Snapchat
Khloé Kardashian Explains Why Her Hair Is Changing During Her Pregnancy
Khloé Kardashian can work any look given to her at any moment. After all, the Keeping Up with the Kardashians star, fashion designer, and Revenge Body with Khloé host has become somewhat of a style icon amongst her legion of fans. But there's been something a bit different about her appearance since announcing her pregnancy with boyfriend, Tristan Thompson — her hair has changed. On Snapchat, over the weekend, Khloe Kardashian explained why pregnancy is changing her hair, and pregnancy hormones aren't (entirely) to blame.
Khloé and her sisters — Kourtney and Kim Kardashian as well as Kendall and Kylie Jenner — are known to change up their looks from time to time. Between striking blonde locks to new lobs, there's always something else to keep up with when the Kardashians are involved. But, even with that in mind, loyal fans of Khloé have probably noticed that her hair on her Instagram has followed a recurring theme over the course of the past few weeks. And this isn't a fashion statement on Khloé's part — it's a decision made based on what's safe during her pregnancy.
Khloé told her Snapchat followers over the weekend that her hair has been forced to remain curly and revert to its natural texture over the course of her pregnancy. This is because, spoiler alert, Khloé's hair isn't naturally straight.
Khloé explained on Snapchat, according to People, that she has been chemically treating and blowing out her hair for years, but can no longer do it due to her pregnancy. This came as a shock to some fans who don't really know the star without her signature straight locks.
Khloé explained to fans on Snapchat, according to People, that she had curly hair growing up as a child. But, as in most instances when you're a kid, "you always want what you can't have." Thus, Khloé wanted straight hair, which she told fans on Snapchat that she's been achieving through "Brazilian blow dry" treatments. But Khloé told fans that she can't get those while she's pregnant — so her hair is retreating back to its natural state. "My curl is slowly coming back," Khloé told fans, according to People.
But Khloé isn't mad about it — she is actually a fan of her hairstyle now. Brazilian blow dry treatments, according to Cosmopolitan, are not recommended for pregnant women because of the high levels of chemicals, like formaldehyde, that they contain, which could lead to an increased risk of miscarriage when you're pregnant, according to the Centers for Disease Control and Prevention. But Khloé doesn't need these chemical hair treatments because her Instagram shows just how well she's been rocking this naturally wavy style throughout the past six months of her pregnancy.
While people had speculated for months whether or not Khloé was actually pregnant until she confirmed the news in December, thinking back, all people had to do was look at her hair in the photos she had posted on her Instagram account to see that she was pregnant. If you look at all of the photos Khloé shared of herself after the news was first reported, you can clearly see that her hair has been curly the entire time. Although that's not a dead giveaway with every mom-to-be, it appears to have been, at least partially, the case here.
But pregnancy hormones could also have something to do with Khloé's curlier locks. During a woman's pregnancy, her hair might become a little fuller and thicker due to their change in hormone levels, according to Fit Pregnancy. But it's not uncommon for the texture of your hair to change completely during pregnancy, going from straight to curly right before your eyes. It's clear, in this case, that pregnancy has only enhance Khloé's natural hair. And let's be real, Khloé always looks gorgeous, no matter what hairstyle or hair texture she's rocking.
Check out Romper's new video series, Romper's Doula Diaries:
Watch full episodes of Romper's Doula Diaries on Facebook Watch.