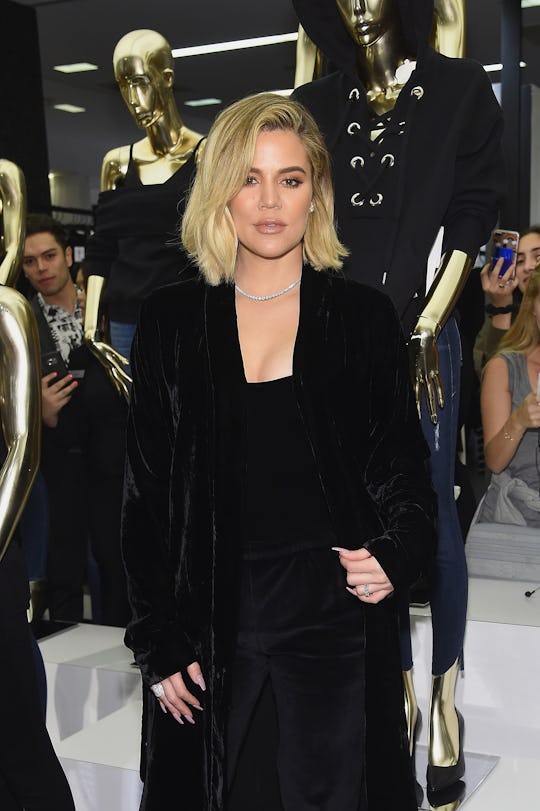 Jamie McCarthy/Getty Images Entertainment/Getty Images
Khloé Kardashian Has Some Words For People Bullying True About Her Skin Tone
Though social media is a space for seeing, learning, and sharing our experiences with one another, there's definitely a dark side to it all that shouldn't be taken lightly. This is never as true as when it comes to raising kids in the digital age. Between mom-shaming, bullying, trolling and harassing, there's a lot for many new moms to deal with, especially if they are in the public eye. This week, Khloé Kardashian fights back after racist comments about baby True flood her Instagram, and TBH, it's absolutely sickening.
It all began last week, when Kardashian's sister Kim Kardashian West posted a photo of her daughter Chicago next to Khloé's daughter True and Kylie Jenner's daughter Stormi, Buzzfeed News reported. She captioned the photo "the triplets," as the cousins were born close together within the same year.
However, in the same way that the KarJenners are subject to being compared to one another incessantly, as did people jump to start comparing the babies. Specifically, some trolls were going out of their way to point out that baby True is "ugly" or that she is "too dark." However, some fans did rush to her defense, saying things like: "Last time I checked being black isn't a problem, so why are you hating on a cute 5 month old baby? Some of you guys need to grow up."
It really should go without saying that declaring someone's skin tone "too much" or "too little" of anything is racist bigotry at its finest, and to sling those prejudices at a baby is just completely unacceptable. Kardashian obviously felt similarly, as she ended up closing the comment section on the next photo of True she posted on her own Instagram account, The Inquisitr reported.
In addition to that, Kardashian began connecting with her supportive fans on social media, thanking them for their well-wishes and love.
One fan tweeted to her: "I'm really sorry that you have to deal with this bs!! But never forget that for one stupid person, you have 200 sending you love and positivity!!! We love you more than you will ever know and we'll always be here for you and True." Kardashian responded: "You guys are incredible and I feel so blessed to have such great support!!! Some other people are truly miserable in their lives but I truly try to stay in a place of love and peace. My baby True is that for me. I'm blocking out the white noise."
However, that was just the beginning. Kardashian began thanking many fans who expressed their support and well wishes for her and True, saying that she is intent on ignoring the "noise" and loving her child to the best of her ability.
Another fan tweeted: "They don't deserve this!! I will not let hate win, they deserve love, affection and peace, true and Khlo has a soul so pure and full of love! Your smile is captivating. Thank you for conveying so much affection and infinite love to us." Kardashian responded: "Hate will never ever win in my life!! I refuse!! Only love."
She also went onto say that people are "disgusting" and they are unhappy in their own lives if they have to verbally abuse a baby. "For anyone to critic a baby is obviously not well," she said.
Finally, Kardashian opened up about the fact that one of the coping mechanisms she turns to is writing. "I used to write all of the time," she said to a fan. "I absolutely love it! It is so therapeutic! Now I write for myself. I used to write and post stuff but I learned that too many people tear things apart. Some things are better just for us."
It's truly inspiring to see that Kardashian is not only refusing to allow the haters to infiltrate her feeds, but also that she is turning to and emphasizing the tremendous amount of love and support she has, as well as finding outlets to deal with the (unfair) but very valid stress.