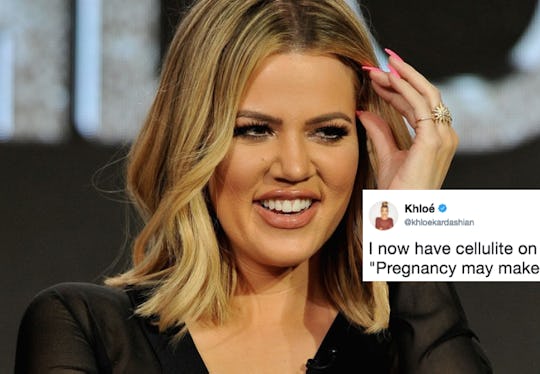 Jerod Harris/Getty Images Entertainment/Getty Images
Khloé Kardashian Got Candid About How Pregnancy Is Changing Her Body
I doubt anyone who follows the Kardashian family doubts that Khloé Kardashian is beyond excited to become a mother for the first time. The 33-year-old Good American designer is expecting her first child with longtime boyfriend, NBA player Tristan Thompson, and is clearly over the moon about it all. She kept the news to herself for the first five months, but now that the news is out in the open, Khloé is all about talking about her pregnancy. Recently, she's been taking to social media to discuss a certain aspect of her pregnancy. On Thursday night, Khloe got candid about pregnancy changing her body, and how she's learning to cope.
Fans will remember that Khloé went through a serious body transformation over a year ago. She worked hard to lose 40 pounds and began hitting the gym often, getting stronger and leaner. Which was not just a physical transformation for her, but an emotional one as well; she told Entertainment Tonight that she struggled with insecurities throughout most of her life. And having Kim and Kourtney Kardashian as her sisters didn't help:
I was so insecure. And my sisters have had the most beautiful skin their entire lives, like, not even a pore. I was like, "How the f**k am I the chubby one? The this one, the that one, it's not fair!" But, that stuff's all fixable.
The Keeping Up With The Kardashians star has been vocal about her journey to get healthier and stay healthier. Khloé admitted that she initially started to hit the gym as an outlet when she was going through a difficult divorce (she and ex-husband Lamar Odom divorced in 2016, according to Us Weekly). She's even made a career out of her healthier lifestyle with her new show Revenge Body and her book Strong Looks Better Naked. So it makes sense that she might be having a hard time dealing with the natural changes her body is going through as she grows a human inside her.
Khloé took to Twitter to talk about her pregnancy body concerns, things like cellulite and stretch marks. In other words, things that so many other pregnant women have had to deal with on the way to become mothers.
Fortunately for her, Khloé's seemingly innocuous tweets caught the attention of her legion of fans and they quickly rushed to make her feel better and console her about all these totally natural (and beautiful) changes that come with pregnancy.
And when one fan reminded the reality star to take a moment to enjoy her pregnancy and stop worrying, she responded.
This isn't the first time Khloé has opened up about her pregnant body concerns; while visiting The Ellen Show earlier this month, according to People, she spoke to host Ellen DeGeneres about being ill in her first trimester and looking "fat:"
At the beginning, the first trimester is the worst and no one knows you're pregnant yet and you feel the most uncomfortable. I think once people know you're pregnant, you get all the excuses. Hopefully I look pregnant, not just fat. It's hard for me to breathe right now.
Now before you go worrying that the Revenge Body star is so focused on her changing body that she isn't excited about her baby, you needn't worry. She also tweeted on Thursday night about being a "nerd" because she was so excited to be "growing a human."
No one can fault a girl for having a moment of mourning for her pre-pregnancy body, perhaps especially when that body came as a result of rigorous diet and exercise. It doesn't take away from her joy about becoming a mother, I'm sure. And I'm sure plenty of moms out there can relate... it's tough to relinquish control of your body to another human for nine months. But that doesn't mean it isn't totally worth it.
Check out Romper's new video series, Romper's Doula Diaries:
Watch full episodes of Romper's Doula Diaries on Facebook Watch.