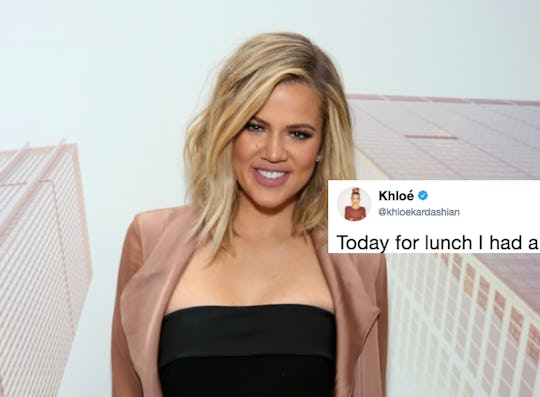 Cindy Ord/Getty Images Entertainment/Getty Images
Khloé‏ Kardashian Got Real About Her Pregnancy Cravings & It's Relatable AF
I know this might not be the most popular opinion out there, but I actually think there's a lot to like about 2018 so far. Or, one thing at least. Khloé Kardashian is open about her pregnancy now, and it's making the beginning of 2018 a whole lot better if you ask me. Because Khloé has a certain little something, a way of connecting with her fans that feels honest and real, and I had a feeling being pregnant was just going to encourage her to get even closer to her followers on social media. As usual, I was right. Khloé shared she has "no control" over her pregnancy cravings on Twitter, and got real about her love for cereal. Arguably the best food on the planet based on versatility alone. See? I told you it was going to be fun with Khloé.
The Good American designer and reality star managed to keep her pregnancy under wraps for the first five months, only revealing her big news on Instagram in late December. Until then, fans had to exist on rumors and speculation alone, hoping against hope that Khloé and her boyfriend, NBA player Tristan Thompson, were actually pregnant. Now that the ecstatic couple have confirmed they are indeed expecting their first child together, Khloé opened up to fans on Twitter on Monday about the best things ever: pregnancy cravings.
Fans Are *So* Here For Her Declaration
The super health conscious host of Revenge Body is clearly enjoying a little well-earned pregnancy indulgence with her cereal, and fans were there to support her. Because let's face it: it's all about moderation, especially when you're pregnant.
When one fan suggested that Khloé should just go for a little walk to work off some of that yummy cereal, she responded:
Another fan posed the all-important question about Khloé's cereal preferences. Is it possible she's one of those Muesli girls, all oats and fruit and nuts and healthy?
I'm very happy to tell you that no, my favorite Kardashian sister (there, I admitted it) has a favorite cereal near and dear to my own heart.
She went on to make an excellent point about cereal, because I guess that's the food on her mind these days as she enters into her third trimester.
Although admittedly, the reality star isn't exactly prepared to eschew all other foods in favor of cereal. Especially a food which arguable matches cereal in the versatility game: pizza.
Other than Khloé's cravings for versatile and delicious foods, fans were also interested to find out how she was enjoying her pregnancy so far. One fan even asked her to rate her feelings about pregnancy "on a scale from Kim to Kourtney." While her older sister Kourtney Kardashian was very open about enjoying her body during pregnancy, sister Kim Kardashian has gone on record calling her two difficult pregnancies some of the worst times of her life, according to Fit Pregnancy.
So where does Khloé fit in on the pregnancy enjoyment scale? She told her followers she was "definitely in the middle," adding:
I feel very grateful that I'm not as miserable as Kim was. But Kourtney was far too excited LOL. We are all so different and that is the beauty of it. The female body is miraculous.
After months of keeping her pregnancy news to herself, it seems like Khloé is happy to finally be able to share her joy with her fans. After years of being the fun aunt, it must be so exciting for the 33-year-old to be expecting a child of her own. And let's not forget one of the main perks of pregnancy... the food. Which seems to taste better and take on new meaning.
It's honestly not the worst thing in the world, and every mom should embrace her cravings while they last.
Check out Romper's new video series, Romper's Doula Diaries:
Watch full episodes of Romper's Doula Diaries on Facebook Watch.