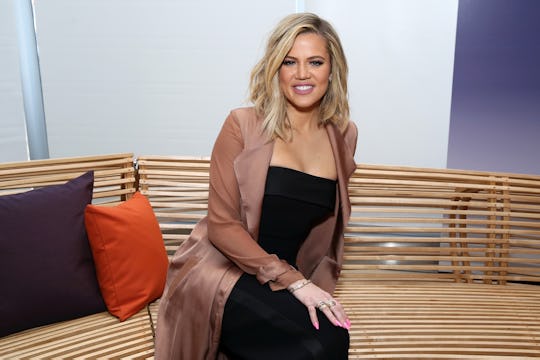 Cindy Ord/Getty Images Entertainment/Getty Images
Khloe Kardashian Got Real About Wanting A Boy Before She Had True
Fans of Keeping Up With The Kardashians will remember the moment when Khloé Kardashian found out she was expecting a baby girl. For some weird reason, her sister Kylie was put in charge of giving the news over the phone (she was busy herself trying to hide her pregnancy with daughter Stormi so you understand why she couldn't be there). And Khloé's reaction to the happy news was... less than ecstatic. She seemed almost bummed about it, to be honest. And now that her daughter has arrived, Khloé got real about wanting a boy before welcoming baby True. Which isn't an easy thing for a mom to admit.
So let me set the scene for you; Khloé found out she and boyfriend Tristan Thompson were expecting a baby last September during filming of KUWTK, according to E! News. This was pretty exciting news for the Good American designer, especially because she has been open about her fertility struggles through the years, according to Refinery29. She made the official announcement to family at a big barbeque, everyone was super excited, and life was good. Then came the sex reveal, orchestrated awkwardly via her younger sister Kylie Jenner. When Kylie excitedly said, "You're having a girl!," Khloé responded by saying, "Shut up. You're lying."
As sister Kim Kardashian-West, who was sitting beside Khloé, tried to say "That's so exciting," the Revenge Body host was clearly underwhelmed. "I don't feel like I'm having a girl," was her response. Then she admitted she was in a state of shock.
Cut to July, three months after she welcomed baby girl True Thompson, and Khloé was finally ready to explain her reaction to the news she was going to have a daughter. She took to Twitter on Saturday to tell her fans that her desire for a son was based largely on her relationship with sister Kourtney Kardashian's oldest son Mason:
It makes sense for first-time moms to look at the relationships they have with other children in their lives affect they way they think their own children will turn out. And Khloé has always been an exceptionally fun aunt with all of her nieces and nephews. But 9-year-old Mason is, of course, the oldest of the next generation of Kardashians. Which seems to give him a special place in his aunt's heart.
Happily Khloé has gotten over her initial disappointment that she was not expecting a son; giving birth to your own baby will tend to do that to a person. Because once your baby arrives, they don't fall into those tired gender stereotypes of "sweet, gentle" girls or "wild, crazy" boys. They become your person, individual and nuanced human beings who don't need to be classified one way or the other.
Besides, Khloé found another pretty bright spot to welcoming a little girl; she has two cousins who are super close to her in age. Kim Kardashian-West welcomed her third child, daughter Chicago West, via surrogate on January 15. And youngest sister Kylie Jenner gave birth to daughter Stormi Webster on Feb 1. True was born on April 12, which puts the three girls within months of each other. And now that Khloé, Tristan, and True are living back in Los Angeles, the three girls can grow up together.
I can sympathize with Khloé about not feeling ecstatic when she was told the sex of her baby, as I'm sure many moms can. As a mom of four sons, I got caught up in those gender tropes as well. But I love my boys, different and weird though they always are, and I'm sure Khloé loves the little girl she gave birth to as well.