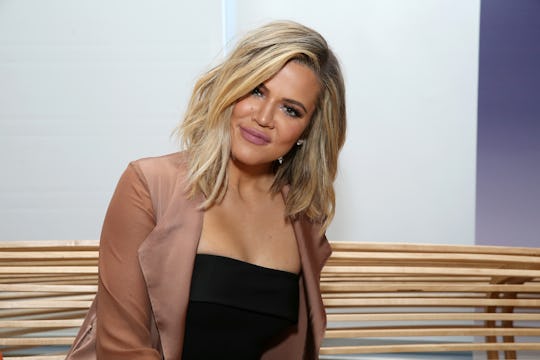 Cindy Ord/Getty Images Entertainment/Getty Images
Khloé K. Has A Message For People Saying She's "Too" Focused On Her Body After Giving Birth
The process of rebuilding your relationship to your body postpartum is unique to every mom. Having a baby is a life-changing experience, and sometimes, reconciling the fact that your stomach may seem unrecognizable at times is not always an easy thing to do, least of all in a culture that scrutinizes women's bodies to such an unhealthy degree. However, there's something to be said for letting every woman process this on their own — and without judgement — which is why Khloé Kardashian's message to people saying she's "too" focused on her body after giving birth is particularly important.
On April 12, Kardashian welcomed her first daughter, True Thompson, with NBA player, Tristan Thompson. In the weeks since, she's offered fans and followers peeks into her life as a new mom, opening up about all the adjustments she's still making as she transitions into her life with baby True. Unsurprisingly, not everyone on the internet has been universally supportive (take, for example, the first paparazzi photos of her walking True in a park, of which Kardashian said "shocked" her, before she added on her blog that she was looking forward to "toning up again," and getting her body "back to where it was," as reported by ELLE).
It makes sense then that she recently took to Snapchat to address how people are policing her approach to post-pregnancy fitness.
"The beginning parts of working out kind of suck because you're pushing your body so hard, you're so tired," Kardashian said on her Snapchat on Monday, as Us Weekly reported. "It's much more difficult than you expect it to be... I've been working out for 11 days now, I feel really good, but tired. My body is sore because it's re-waking itself back up."
She continued by getting to the root of the problem, and letting people know that there's nothing wrong with wanting to adjust your body, fitness or lifestyle in whatever way you see fit. According to Us Weekly, she explained:
What I'm annoyed about is I've read a couple of times on Twitter that they feel that I'm focusing too much on my body, but the truth is, I've worked out five or six days a week before I got pregnant and that's my sanctuary and something I love to do. I want to start doing that now and get back to my rhythm and in between feedings I want to find time to work out because that's going to be my new normal.
Kardashian concluded by explaining that being a mom and being into fitness are not mutually exclusive things. "Just because I have a baby, doesn't mean I have to stop doing the things that I love, and I love working out and getting my mind right," she said, according to Us Weekly.
While Kardashian was still pregnant, she shared her pregnancy workout routine on her blog, according to CBS 8. "I'm so lucky that I've been able to stay active during my pregnancy," she said. "If I'm not doing something, I just feel off, ya know? I can't beast out in the gym the way I could six months ago – and, let's get real, it'll be a few more months before I can again – but I'm definitely doing what I can."
Not long after, Kardashian had to shut down the "internet doctors" who were criticizing her for continuing to work out while pregnant, as Revelist reported. "My doctor has instructed me to do so," she said in a tweet. "Why does everyone on social media think they are a physician?? Why would I do anything to do that? If you don't know, mind your business."
Kardashian does have a point: there's a lot of false information out there about whether or not a woman should work out while expecting. Parents noted that the main concern is whether or not it will cause miscarriage (it won't). "There is no real evidence that exercise is linked to miscarriage," Bruce K. Young, MD, coauthor of Miscarriage, Medicine & Miracles (Bantam) and professor of obstetrics and gynecology at New York University School of Medicine, told the magazine.
Workouts and body positivity aside, Kardashian has made it a point to share her self-image struggles with fans. This past April, Shape reported that she posted to her website saying: "I'm proud of my body. My body weight will always be something that I'll struggle with for the rest of my life, but I'm finally in a good place and learning to love me for me, and not somebody else's standards."
That's undoubtedly a lesson that she's going to be teaching True... and in the meantime, one she may also have to teach her fans and followers, too.