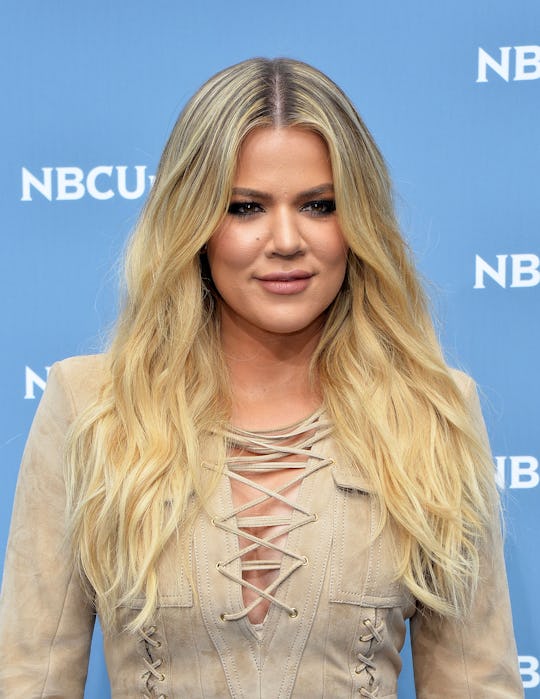 Slaven Vlasic/Getty Images Entertainment/Getty Images
Khloé K Says She Was Surprised By Paparazzi Photos Of Her Post-Baby Body
When you decide to have a baby, everything changes: your life, your relationships, your priorities, and yes, your body. The unrealistic standards women are held to when it comes to their physique only become more pronounced when the body undergoes so much rapid change in a short period of time. Illustrating this perfectly, Khloé Kardashian says she was shocked by paparazzi photos of her post-baby body, and TBH, that's kind of a big problem.
On Sunday, photos of Kardashian walking baby True in a park in Cleveland surfaced, and she was less than thrilled with how she looked in them. "I couldn't believe how big my booty looked! I can't wait to tone up again and get my body back to where it was," Elle reported she said on her blog. "I'm super excited because my doctor finally cleared me this week to work out, and I'm going to meet with Coach Joe! I've literally been counting down the days." She went on to say that she was "proud" of herself for not being "as big" as she thought she would be. "I'm ready to start getting my body back and feeling mentally clear again. Bring on summer and the hard work — I got this!"
Underneath those go-get-'em, girl power vibes (which are admirable) exists a much sadder reality: Kardashian is still allowing her body to be policed by the world at large, even mere weeks after undergoing such tremendous change. The expectation is that moms should "get their bodies back" immediately after giving birth, and to not have done so is a failure on their part. It's also indicative of the common idea that big = bad, especially when it comes to women's figures. Though Khloé is entitled to feel however she wants about her body (and does note that she wants to feel healthier) she shouldn't be shamed into feeling that way by anyone else.
The way one woman comes to term with herself and her body is nobody else's business, but to say that Kardashian hasn't been influenced by oppressively narrow beauty standards would be to disregard the nature of the field she works in, and the amount of scrutiny she receives. Though there was nothing wrong with how she looked in those photos, it isn't surprising that she thought there was.
"Somebody said Khloé Kardashian is wearing her baby's Pampers. I'm done with the internet!" one Twitter user wrote, referencing her size in one of the photos. "Khloé Kardashian's body reminds me of an ant," said another. "I'm absolutely pro plastic surgery but Khloé Kardashian completely ruined herself I wish someone stopped her honestly," said another. Those comments are absolutely inappropriate, completely false, and mostly, just insensitive. But any mom who was inundated with them would probably surmise the same thing: there's something wrong with me.
Kardashian's issues with her body and her way of triumphing over them have been well-documented: The Independent reported that her family told her to lose weight so that she wouldn't ruin "the brand," she then lost 40 pounds and wrote about it in her book, Strong Looks Better Naked, and encouraged other people to, uh, get revenge on their exes (?) by losing weight on her TV show, Revenge Body. Finally, she started an inclusive line of women's clothing called Good American, which is committed to "extreme inclusivity."
Kardashian looked fine on her walk with True, because there's no moral judgement on any body, especially not one that, um, just gave birth. It's fine to want to hit the gym once your doctor gives you the go-ahead, but doing it so that you aren't shamed for having seen changes in your body isn't okay, and it needs to stop being such a pertinent problem.
Right now, what matters most is that Kardashian is adjusting to life with her new daughter, as well as her relationship, a new city, and life as a mom. Instead of policing how much or how little weight she has retained from giving birth, the world should be showering her in well wishes, and letting the woman enjoy a walk in the park in peace.
Check out Romper's new video series, Bearing The Motherload, where disagreeing parents from different sides of an issue sit down with a mediator and talk about how to support (and not judge) each other's parenting perspectives. New episodes air Mondays on Facebook.