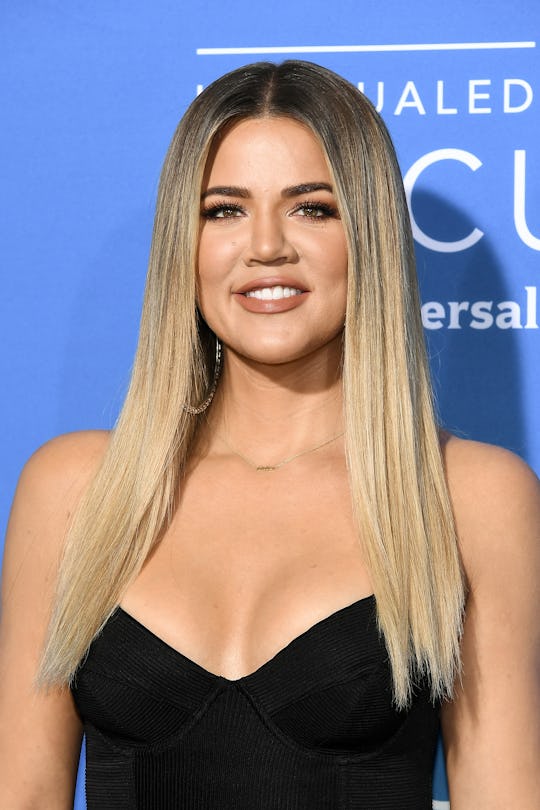 Dia Dipasupil/Getty Images Entertainment/Getty Images
How Khloé Kardashian Is Handling Her Pregnancy Cravings Will Make You Say "Hell Yeah!"
There is a reason why I will forever be Team KoKo (although full disclosure I'm not really into picking teams like that because it's very anti-female, but still.. if I were that sort of girl I'd be Team KoKo). First of all, Khloé Kardashian is probably the most entertaining of the Kardashian/Jenner sisters. Second of all, she is legit almost too honest for words, a trait I tend to appreciate in my gal crushes. Oddly, less so in my man crushes, but I digress. When Khloé Kardashian said she's "giving in" to her pregnancy cravings, I was like, Sing it, sister. Because if you can't enjoy your pregnancy cravings in this life, what can you enjoy?
The Revenge Body star has made working out and eating well something of a full-time job in recent years, hence the reason she has a show called Revenge Body, I guess. After spending most of her life feeling insecure about her weight, Khloé got serious about her health and started working out like a demon, on and off the set of Keeping Up With The Kardashians. She also cut out dairy, dried fruit, soy, soda, bread, bagels, and muffins, according to her interview with Healthista. And now that she's pregnant with her first baby, a girl, with boyfriend Tristan Thompson, it looks like the gloves are off, as it were.
Khloé took to her app to share her pregnancy diet tips on Thursday, according to People, and admitted:
I've been eating like a beast and I don't like it, LOL. In my second trimester, I was giving in to my cravings in moderation—but now in my third, I just don't have the self-control I used to have. Like it seriously all went out the window in my eighth month!
While the Good American designer managed to keep her pregnancy (somewhat) under wraps for months, ever since she let the cat out of the bag with a super beautiful Instagram post in December, she's been happily sharing her pregnancy journey with fans. And while Khloé isn't about to let anyone shame her for her choices, she did admit earlier in her pregnancy that she was missing her pre-pregnancy body. She posted a picture of herself on Instagram in February from before her pregnancy with the caption:
Old pics 😩 but I'm loving My Revenge Body looks on tonight's episode!! Hi old body 👋🏽 I'll see you very soon! I promise 💋
That was then, folks, and this is now. Scarcely a month further into her pregnancy, Khloé has decided not to sweat the changes. And to embrace the food as she gets closer to her due date (she's eight months pregnant). She wrote:
I'm not sweating it because I'll get back on track.
But don't worry, she's in no rush to get back on track just yet. This first time mom, who has admitted she's been waiting "years" to welcome her own child, is enjoying every minute of this beautiful ride.
Perhaps especially the food. As her Twitter feed can attest.
Now that Kim Kardashian and Kylie Jenner have both welcomed their daughters (first little Chicago West in January and then Kylie's daughter Stormi Webster on Feb. 1) all Kardashian/Jenner fans have to do is wait for the final sister Khloé to have her little girl. It won't be much longer, and I really love the fact that she and Tristan seem to be just reveling in every step along the way.
In fact, I miss pregnancy cravings, to be honest. These days if I eat an entire baguette with butter by myself it's considered less than adorable. I hope KoKo enjoys it while it lasts.
Check out Romper's new video series, Bearing The Motherload, where disagreeing parents from different sides of an issue sit down with a mediator and talk about how to support (and not judge) each other's parenting perspectives. New episodes air Mondays on Facebook.