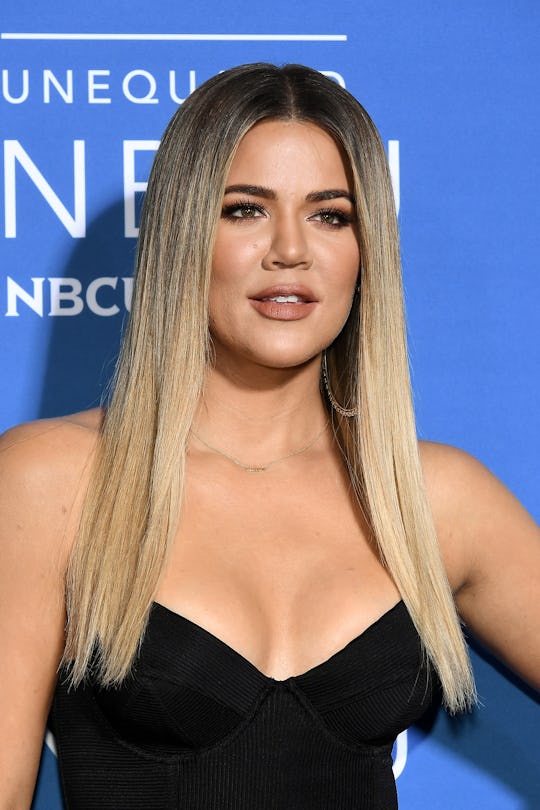 Dia Dipasupil/Getty Images Entertainment/Getty Images
Khloe Kardashian *Might* Have Just Said She's Standing By Her Man
Khloé Kardashian is a woman who knows her own mind. Even when people don't agree with her, or maybe especially when people don't agree with her, she seems like she's always going to stick to her guns. And these days everyone has pretty strong opinions about everything Khloé-related. Particularly where her relationship with boyfriend Tristan Thompson is concerned. Ever since the birth of their daughter, True Thompson, Khloé has been staying tight-lipped about her relationship with the NBA player. Until now. In a recent Instagram Story, Khloé might have commented on the Tristan drama, and fans who were hoping she might leave him over cheating rumors should get ready for disappointment.
Ever since the love story of Khloé and Tristan began to unfold back in 2016, KoKo fans have been really rooting for the couple. The Revenge Body host picked up and moved to Cleveland, and while Keeping Up With The Kardashians fans didn't get to see a whole lot of Tristan, there was no denying Khloé glowed with happiness. Especially when the 33-year-old Good American designer found out she was pregnant with her first child. Things were looking up for her, and everyone loved it. Until April, that is, just days before Khloé was due to give birth.
Several news outlets reported that Thompson, who also has a son named Prince with ex-girlfriend Jordan Craig, was cheating on Khloé in New York City when his team, the Cleveland Cavaliers, was in town. Then more reports surfaced that seemed to point to the possibility that Tristan cheated with no less than five women. Neither Khloé nor Tristan have confirmed the rumors, but they haven't denied them either. To be fair, they're probably pretty busy with their baby girl, who turned 1-month-old on May 12, but that hasn't stopped the internet from speculating about their relationship.
Kim Kardashian West, Khloé's older sister, didn't exactly address the rumors during an appearance on The Ellen Show, but she made it abundantly clear that she wasn't impressed with the situation. As she told DeGeneres, according to E! News:
Like I don't even know how to describe it besides it's just so f--ked up. We really were rooting for Khloe, and we still are...you know, she's so strong and she's doing the best that she can. It's a really sad situation all over.
Well it looks like Kim can stop worrying about KoKo; if her Instagram Story quote is to be believed, she's finally gone public about her decision; she's going to stand by her man. As she wrote on Instagram, according to Cosmopolitan:
It's all about who you look for in a crowded room. That's where your heart belongs to.
Sure, she didn't come right out and say this was about Tristan, but let's go out on a limb and say it's highly likely this post is about him. The couple have been spotted out together a few times in Cleveland over the past few weeks, getting dinner together and catching a movie. Khloé even attended a Cleveland Cavaliers game to root Tristan on as he played. And Khloé reportedly didn't head back to Los Angeles to spend Mother's Day with her sisters and her mom, Kris Jenner, according to People. Why? A source close to the family told the news outlet:
Khloé is determined to show that she is happy in Cleveland. She's very stubborn when it comes to her life. Her family still disagrees with her decision to stay with Tristan, but they are trying to be supportive. They wanted Khloé back in L.A. for Mother's Day, but she's doing her own thing.
As an avid Kardashian watcher. I know this much is true; her family will have her back. And she'll keep doing things her own way, no matter what anyone thinks.
Here's hoping it all works out for her.