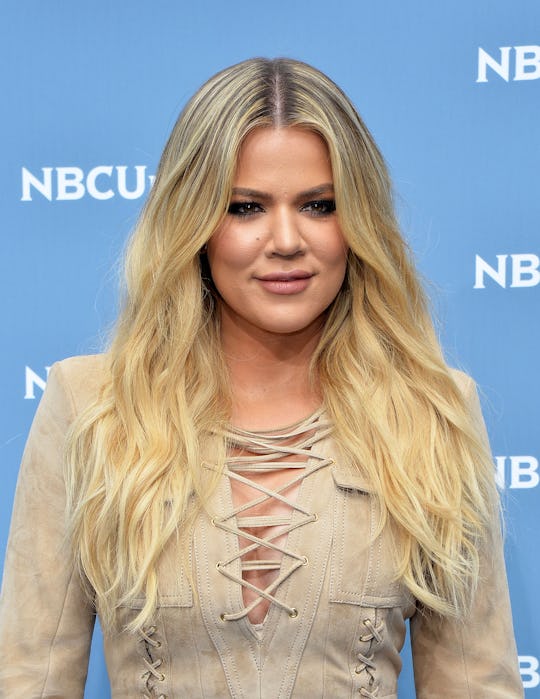 Slaven Vlasic/Getty Images Entertainment/Getty Images
People Are Reacting To Khloé Kardashian's Pregnancy With The *Best* Memes & Tweets
The day has finally arrived. On Wednesday evening Khloé Kardashian officially confirmed in an Instagram photo that she is pregnant with her first child with boyfriend Tristan Thompson. The world has been waiting for this information since like, um, September, so of course people promptly lost their sh*t on social media. Memes and tweets about Khloé Kardashian's pregnancy show the extent to which people had zero chill.
Kardashian's Instagram announcement is literally the sweetest thing ever. She captioned it:
My greatest dream realized! We are having a baby! I had been waiting and wondering but God had a plan all along. He knew what He was doing. I simply had to trust in Him and be patient. I still at times can't believe that our love created life! Tristan, thank you for loving me the way that you do! Thank you for treating me like a Queen! Thank you for making me feel beautiful at all stages! Tristan, most of all, Thank you for making me a MOMMY!!! You have made this experience even more magical than I could have envisioned! I will never forget how wonderful you've been to me during this time! Thank you for making me so happy my love!
Thank you to everyone for the love and positive vibes! I know we've been keeping this quiet but we wanted to enjoy this between our family and close friends as long as we could privately. To enjoy our first precious moments just us ❤️ Thank you all for understanding. I am so thankful, excited, nervous, eager, overjoyed and scared all in one! But it's the best bundle of feelings I've ever felt in my life! ❤️❤️❤️
And fans freaked out accordingly, with the best memes and tweets.
A lot of fans were asking in the comments of Khloé's post when her sister Kylie Jenner was going to confirm or deny her pregnancy.
I personally find that really inappropriate, considering this is a big moment for Khloé. Let her have this, dammit! Some fans felt the same:
People first reported in September (yes, we have been following this saga for that long, and yes, at this point it feels like it's been happening for as long as the Harry Potter series has existed), but neither Khloé nor Thompson's reps publicly confirmed the news. Khloé has teased fans with Snapchat videos and Instagram photos of her and Thompson at a Halloween party, where she looked very not pregnant in a Game of Thrones-themed costume, and then she also posted a bunch of recent photos to Instagram where she is wearing clothing that would not be able to easily conceal a bump.
But what really sealed the "Dammit, I don't think she's pregnant" deal was recent photos of her that sister Kim Kardashian tweeted as part of the Kardashian Christmas Card reveal. In all of the photos Khloé doesn't look pregnant — even in Wednesday's photo, which appears to feature her, she does not appear to have any bump. But, Kris Jenner dropped a huge clue in November when she told People that Kim organizes the Christmas card shoot. So, to break that down for you, that means the shoot likely happened in November, so maybe Khloé just wasn't showing yet. If she did announce the pregnancy to family in September and it leaked, then it would make sense that she then was able to shoot the Christmas card in November and not give anything away.
OK, I officially feel like I've gone a little too far with the pregnancy speculation stuff, so I'm going to take my tin hat off and treat myself to a beer because it finally happened. Congrats to Khloé and Tristan!
Check out Romper's new video series, Romper's Doula Diaries:
Watch full episodes of Romper's Doula Diaries on Facebook Watch.