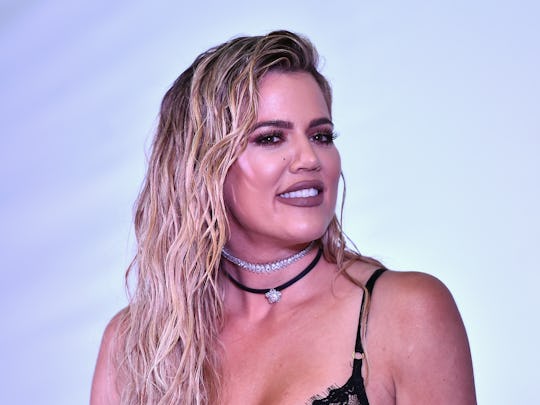 Alberto E. Rodriguez/Getty Images Entertainment/Getty Images
Khloe Kardashian Pregnancy Rumor Updates To Keep You Guessing Until The Big Reveal
If I don't see a Kardashian pregnancy announcement within the next five minutes, I'm going to flip my ever-loving lid. This whole situation is becoming like one of those mystery books that just keeps dangling the killer in front of you for 100 pages. I mean, get to the point already, right? As fans wait for the big announcement to finally, FINALLY arrive, here are the latest Khloe Kardashian pregnancy rumors to tide you over.
I'm naturally assuming you know that Khloe Kardashian is reportedly pregnant with boyfriend Tristan Thompson of the Cleveland Cavaliers? The news dropped in September, just one day after the news that youngest sister Kylie Jenner is reportedly pregnant with boyfriend, rapper Travis Scott. Honestly, it was probably the most exciting weekend this girl has had in years I'm not proud of myself, but yeah. It is what it is. Us Weekly broke the news on Sept. 26, and while several "sources" have confirmed the Keeping Up With The Kardashians star is definitely pregnant, nobody in the famous family has confirmed the news. That being said, nobody has outright denied it either. No, instead there have been all of these hints, these little cat-and-mouse games that have left me, for one, exhausted. Honestly, Khloe, I thought you were better than this. Until Kardashian confirms the news, which Us Weekly reported on Wednesday she is expected to do soon, let's take a look at the latest pregnancy rumors, shall we?
She's Having A Boy
After the initial rush of shocked joy from the news of the Good American designer's pregnancy subsided, fans were hungry for more details. At the end of October (could it really be just one month ago?), several media outlets reported that she and Thompson are expecting a baby boy. According to People the couple, who have been together since September 2016, are expecting a son. This will be the first baby for Kardashian, who several sources confirmed is "over-the-moon" about the news, and the second child for Thompson. He and ex-girlfriend Jordan Craig share a 10-month-old son named Prince Oliver.
Baby Bump Watch 2017
Since Kardashian hasn't confirmed her pregnancy, fans have taken to watching for a baby bump, especially since sources claimed the reality star is already six months along in her pregnancy. Now I have to admit, as a woman I don't love this. Every picture taken of Kardashian is mulled over for signs of the tell-tale baby bump, and it's a bit gross. She continues to limit her public appearances and cover up with loose-fitting clothing, but I think the baby bump watch thing needs to end. This is not what women do to other women, you know?
She Calls Tristan "Daddy"
As reported by several media outlets, including Hollywood Life, Kardashian has frequently referred to her Canadian boyfriend as "daddy." Including the time she took a Snapchat video of Thompson on Halloween and literally wrote over the video footage "That's Daddy."
I am hopeful that she is not doing that thing where you call your boyfriend Daddy, because just. No.
Nobody Is Denying It
Sure, momager Kris Jenner played coy on Ellen when host Degeneres asked her about the two possibly pregnancies. And yes, sister Kim Kardashian-West, who is expecting her third baby via surrogate with husband, rapper Kanye West, drank a sardine smoothie in The Late, Late Show with James Corden rather than revealing her sisters' secrets. But no one is actually denying it either. And I think that says everything, to be honest.
Not that the gang is giving off worried vibes about the secret being revealed or anything. No, it seems the Kardashian family enjoyed a lovely Thanksgiving weekend, with Khloe in Ohio cooking up a feast for Thompson's family and the other possibly pregnant sister, Kylie, hosting a pink-themed dinner in Los Angeles for the rest of the gang.
While the rest of us sit here, glued to our laptops, waiting for a Kardashian update.
Just kidding. I guess.
Check out Romper's new video series, Romper's Doula Diaries:
Watch full episodes of Romper's Doula Diaries on Facebook Watch.