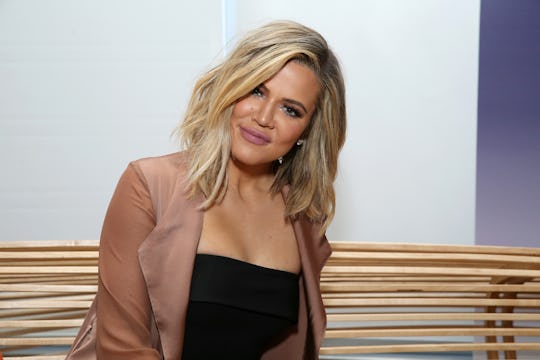 Cindy Ord/Getty Images Entertainment/Getty Images
These Khloe Kardashian Pregnancy Theories Are So Batsh*t, You'll Believe Them — Bible
In a Black Mirror-esque turn of events, it seems every weeknight will now end with a viral rumor starting that a Kardashian is pregnant. And if you think I'm talking about Kylie Jenner's reported pregnancy, that was so last week. I've moved on to talking about Khloe Kardashian reportedly being pregnant, which, if true, would make her the third Kardashian/Jenner expecting at the moment which is — bible — just crazy. And the internet is here. for. this. rumor — just check out the abundant and fruitful Khloe Kardashian pregnancy theories circling around.
On Tuesday, Us Weekly reported that Everyone's Favorite Kardashian (controversial, I know), a.k.a., Khloe Kardashian, is currently pregnant. She is dating Tristan Thompson, who is a basketball player for the Cleveland Cavaliers. The two have been dating for a year, TMZ reports. This would be the first child for Khloe Kardashian and the second for Thompson. This would not, however, be the first forthcoming baby the Kardashian Krew is expecting in the year 2018, which is why we really need to be thinking long and hard about what is going on here.
Which brings me to the theories. I present to you, with limited context, and a whole lot of commentary, some of the most batsh*t theories to Khloe Kardashian's pregnancy, because honestly, we need a little semblance right now and if I can get that from believing there's something in the drinking water, I'm going to take it.
There's Something In The Drinking Water
I'd have to consult Science on this one, but I don't think this is really possible? Unless we're living in some utopian world where a sip of perfectly chilled water from a double-door glass refrigerator can make an entire family pregnant.
This Was Teased A While Ago & We All Missed It
Khloe posted a photo collage on Snapchat back in June with the handwritten caption "Dad + Mom" under a photo of her and Tristan! What does this mean? Was this information in front of us all along? Have we been sitting on this factoid, just bopping around like it was nbd?
Kris Jenner, Momager Extraordinaire, Is Up To Something
I don't doubt that Kris Jenner is capable of this, but two daughters in one week? Is it possible? (What am I saying, of course it is possible! It is Kim Possible.)
There's A New Show In The Works (See: Above)
Again, I truly believe Kris is capable of Anything She Sets Her Mind To, so we shall see what E! has lined-up for 2018.
Khloe Is Kim's Surrogate
This was a huge theory if we time travel back to last week, when Kylie Jenner's pregnancy was reported. Many believed that, due to her age, Jenner was potentially Kim's surrogate. First of all, Jenner is old enough to have a baby, k, thanks, and second of all, let's just let all of these ladies breathe a little bit and announce their pregnancies first.
Also, there has been extensive reporting on Kim Kardashian's surrogate, and Khloe doesn't really fit the bill.
There Was A Pregnancy Pact
When two of the most influential people in pop culture are reportedly pregnant at the same time, rumors swirling only a week apart, it's only natural to assume there is something bigger at play.
You Fell Asleep & It's Actually Christmas
Fast forward now to December 2018, a full year after all of this goes down, and there are so many new babies at play and the Christmas card has suddenly become a Christmas scroll.
Watch Romper's new video series, Romper's Doula Diaries:
Check out the entire Romper's Doula Diaries series and other videos on Facebook and the Bustle app across Apple TV, Roku, and Amazon Fire TV.