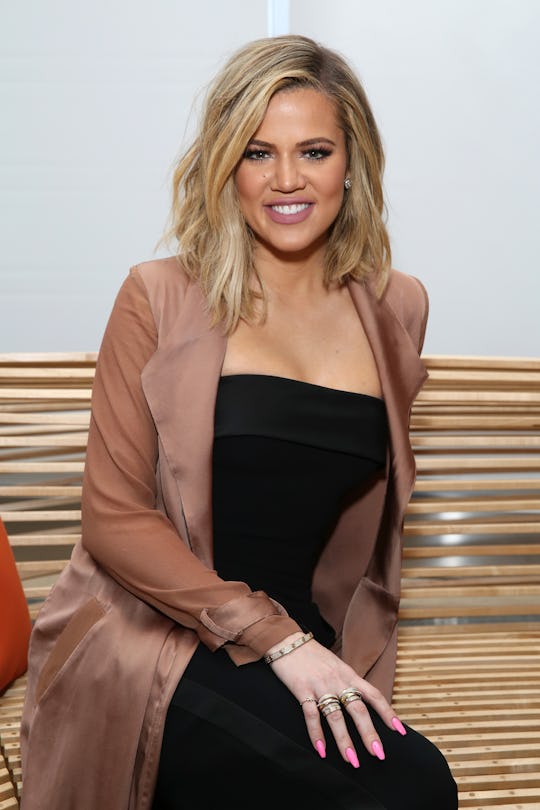 Cindy Ord/Getty Images Entertainment/Getty Images
Khloe Kardashian Responds To Body Shamers, Proving She Has No Time For This Nonsense
First she was too fat, and now she's too skinny. The girl clearly just cannot catch a break. After working on getting healthier for the last year, Khloe Kardashian has been targeted by some media outlets as being "too skinny", and she's having none of it. Kardashian responded to the body shamers, and shut them down with her usual, no-nonsense style.
Khloe, one of reality television's famous five Kardashian sisters (Kourtney, Kim, Kyle, and Kendall), was derided in the media for years as the "fat sister". And the really tragic part about that (other than being body shamed as a young woman, of course); until Khloe saw herself described as "fat" in the media, she never really was herself that way. She spoke to E! Online about her years of being "fat-shamed" last November.
It's so funny because I didn't think I was that sister. I didn't think I was the fat sister until people would call me that. And I was like, 'Am I?' Like I just didn't really think of myself as being fat.
While she looks back at that time as being hurtful, she also said those years of being targeted by the media made her stronger.
It did make me strong for sure and being able to endure that stuff but it also makes me realize how like f--ked up people are. How judgmental and how people's words can hurt other people and what affect it does have on them. I understand why some people succumb to eating disorders or just the peer pressure, I do get that. But I'm proud of myself that I didn't and I'm able to walk away and actually say it made me stronger.
So now that she's gotten thinner, the media should be happy, yes? Um... nope. OK! Magazine recently posted an article featuring a snap of Khloe K. in a black strapless jumpsuit with the headline, "Too Far! Khloe Kardashian Caught Looking SCARY SKINNY In A Strapless Jumpsuit!" Because there must be some predestined weight for every woman that is 100 percent exactly right, I suppose. No deviating even half a pound either way. Khloe's reaction? She is simply beyond over the "too fat, too skinny" game. She took to Twitter to vent her frustrations, and shut her critics down with a few simple words.
Here's the thing; the girl has worked hard, not just on her body but on her mindset. She has even written a book about her journey, Strong Looks Better Naked, that has been inspiring fans to improve their own lifestyles.
Fans aren't the only people she's inspiring; her sister Kim recently told People that Khloe is her new body icon.
"I saw her naked two days ago changing. And I was, 'Oh, my God. You are my body icon.' She's never been more on fire."
Instead of scrutinizing the girl, let's give her a minute, shall we? She's been amazingly resilient in her years of being in the spotlight. I wonder how any of us would hold up with that sort of public criticism of our bodies. Let's just let her enjoy her newfound healthy body... and maybe piggyback on to some of her style.