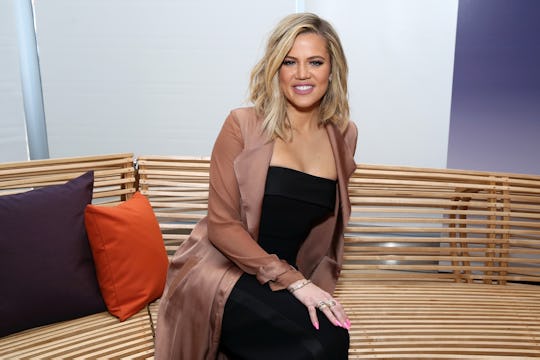 Cindy Ord/Getty Images Entertainment/Getty Images
Khloé Kardashian Revealed Who Really Came Up With True's Name, & It's So Sweet
True Thompson turned one month old on Saturday, but it turns out that fans still may not know every detail about her birth. On Monday, for example, Khloé Kardashian revealed who really came up with True's name, and it's such a sweet family connection. Shedding more light on the highly speculated name choice, Khloé posted a blog to her "Khloé With A K" app, in which she explained that her daughter's name was actually a suggestion from her grandmother.
"My grandma MJ suggested True. She told me it was my great-grandfather's first name and my grandfather's middle name," she said. "It stuck with me for my entire pregnancy and was the only one I couldn't get out of my head." Fans already knew that there were multiple family ties to the name, while others speculated that it was an ironic (if not intentional) choice, given the rumors that surrounded Khloé and Tristan at the time of her birth.
The same day, Khloé also took to Twitter to answer some of her fans' most pressing questions about the baby. Someone inquired whether she thought True looked like herself of Tristan, and she answered: "Tristan and True are twins lol it's crazy." She continued in another tweet: "Everyone tells me they are identical lol it's wild maybe her eyes will stay light and I can get something."
However, when True's name was first announced, many people wondered if it had something to do with the Daily Mail footage that purported to show her father, Tristan Thompson, allegedly cheating on Khloé just days before she was due to give birth. Romper's requests for comment from both Thompson and Kardashian's team regarding the cheating allegations were not immediately returned. True is technically an English baby name that means "loyalty," which some thought to be an ironic choice.
Some fans took to social media to share their opinions about the name choice, and they were, uh, mixed to say the least. One argued that "True" is something Khloé's "baby daddy can't relate to," while others said it was Khloé's way of confirming the rumors, while others argued that it was maybe just her way of trying to convince herself that the relationship was salvageable. (So far, the relationship has persisted, as is evidenced by the fact that Khloé gave True Tristan's last name, and has since stayed with him and their new daughter in Cleveland.)
There were a few other conspiracies surrounding True's name, aside from those who assumed it was a statement to her father. Some believe it is a symbol of what Khloé hopes for True in the future, while others are convinced that it was actually inspired by the Disney show, True Jackson, VP.
So far, nobody other than Khloé's sister Kim Kardashian West has spoken out about the situation with Tristan. However, Cosmopolitan reported that earlier today, Khloé may have just made her first statement via an Instagram story, on which she shared the quote: "It's all about who you look for in a crowded room. That's where your heart belongs to." This reaffirms other reports that have said that she really wants to make it work with True's dad.
Entertainment Tonight reported that Kim told Ellen DeGeneres that the whole situation was "so f*cked up," and on a Live With Kelly and Ryan segment on May 11, Kim revealed that her comments didn't go over so well with everyone. "Yeah, I mean, last time I went on TV and I answered some questions about her, I got blocked on social media, so," she said. "I'm always rooting for her, always rooting for love. I'm always rooting for family."
It seems that regardless of what happened in the past, the new family is adjusting to their life together in Cleveland. What happens next is truly anyone's guess.